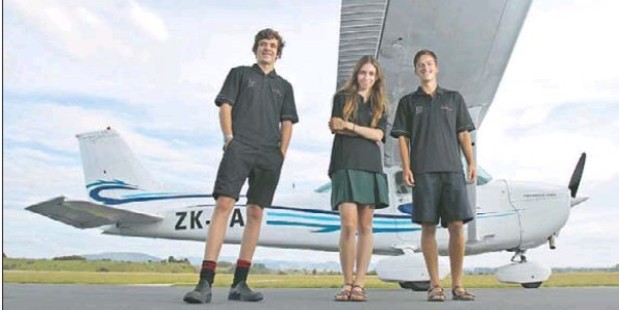 Three Tauranga college students have notched up the unique achievement of qualifying for the National Flying Competitions even though they are barely old enough to drive.
Erin Carter, 16, and her two 17-year-old flying buddies Isaac O'Kell and Sevi Rust will be taking on the best "student" pilots that the rest of New Zealand can muster when the three-day competition begins at Tauranga Airport on February 20.
It is the first time the competitions have been held in Tauranga for 20 years and the first time that three Tauranga Aero Club pilots of such a young age have qualified for the championships.
"I love the pressure, I love competing," Isaac said.
And although they are competing in the student section of the contest, the term does not imply they will only be competing against people their own age - the contestants come from all age groups.
Each relish "the buzz" of flying and achieved their first solo flights as soon as possible after reaching the minimum age of 16 - building on a huge love of aircraft that for Isaac started at the tender age of four.
Their first taste of flying with an instructor began long before they got behind the wheel of a car and while Isaac and Sevi are now on learner and restricted licences, Erin has yet to take the plunge into a car.
But none see it as particularly unusual that they will soon be joining 70 other pilots from around New Zealand to perform some exacting aeronautical feats in club aircraft.
Erin's interest in flying was helped along by her father and grandfather's involvement in aviation, although she found it hard to put her finger on exactly what it was that pushed her into the skies.
"I don't know where it comes from, it just is."
Sevi gave a more down-to-earth appraisal. "It's heaps of fun - I might be able to do it as a job."
They went through the aero club's young eagle programme and all won Fly New Zealand scholarships to offset the costs of going solo. It was a pivotal reason for Sevi: "I didn't start flying until I won the scholarship."
Club Captain Daniel Campbell was proud of the achievements of the three young flyers, with Isaac forming part of the team that will compete for the Wigram Cup - flying's equivalent of the Ranfurly Shield.
He put their success at the eastern region's qualifying championships last November down to natural flair, good instruction and encouragement from the club's older pilots. "To get a three from three strike rate is pretty unique," Mr Campbell said.
Fourteen other club pilots selected from the regional championships will be competing in disciplines ranging from aerobatics and formation flying to spot landings and forced landings.
The National Flying Competitions will attract about 180 pilots supporters and judges, with the top flyers competing for the prestigious Wings Trophy against Australia on February 22.