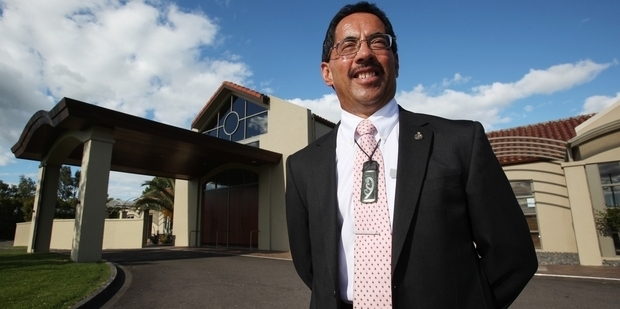 Residents who claim a Pyes Pa crematorium is spewing out black smoke on to their properties are calling for the incinerator to be closed down while authorities investigate.
The Bay of Plenty Regional Council is looking into Legacy Funerals' crematorium near Tauranga Cemetery, after receiving complaints from nearby residents, who took photos and video footage of heavy smoke pumping out of the chimney.
Residents said dark smoke billowed out over their properties and mourners in the Legacy Funerals' carpark, and that the smell was "unbelievable".
One woman said it was so bad it looked like "someone was burning tyres".
Legacy Funerals director Mike Savage told the Bay of Plenty Times the cremator's manufacturer had inspected the site last month and confirmed it was being operated under the correct guidelines.
"We are happy to work with the appropriate authorities to confirm that," he said.
Regional council pollution prevention manager Nick Zaman said the videos and photographs were being reviewed by an air quality scientist.
The council was trying to determine the cause of the problem and if any compliance follow-up action was needed. Staff were to visit the site next week.
Glenn Wilson, whose home is immediately behind the crematorium, said residents had noticed the smoke four times since November. He had complained to Legacy Funerals staff who had "brushed it off". "The most recent time was on January 31.
"The smell is unbelievable, I could not describe it ... and I do not want to think about what it is. It is really thick and it blows out everywhere. It leaves black, ash-like stuff behind.
He said Legacy staff had called it particulate matter when he complained about it.
"That doesn't sound too great to me, but they brushed it off."
Mr Wilson said he was concerned for his family's health and wanted the crematorium to shut down while council investigated the complaints.
"If this was a factory in an industrial estate they would be shut down until the problem is fixed. I have asked Legacy to stop cremating until they sort the issue out but they told me they are going to keep going while they try to sort it out."
Noel Lincoln said living near the crematorium was "not the nicest thing".
"I hope they find out what is wrong with it and close it down permanently ..."
Other Pyes Pa residents the Bay of Plenty Times spoke to said they often noticed the thick smoke coming from the crematorium. "It doesn't look right," one woman who asked not to be named, said. "The smoke is really black, some days it's pretty full-on. At times you think someone is burning off tyres or something." During the resource consent process a council report said Legacy planned on using a "state of the art cremator" which was designed not to emit smoke. Its primary and secondary combustion chambers, opening at temperatures of 1000C, meant emissions to the air should be "near invisible".
The regional council issued the initial certificate of compliance, allowing the crematorium to pass through Western Bay of Plenty District Council's consent process in 2011. Closing the crematorium down once council determines what the issue was, could be an option, Mr Zaman said.
"We have been in contact with the crematorium but have not been out to [the] site as yet, the discharge is no longer occurring and we are still investigating the issue."
It was not normal for residents to be able to smell emissions from the crematorium, he said.