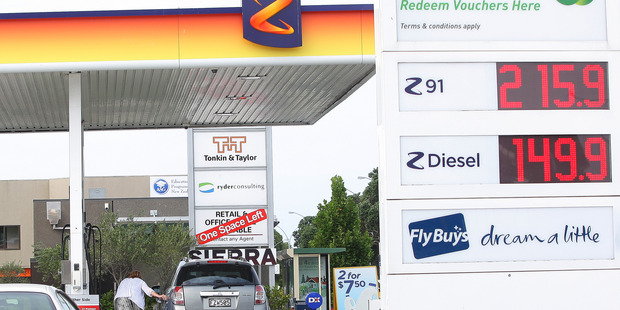 Bay motorists have been "reaping the benefits" of lower petrol prices but an unofficial survey shows they could be saving a futher five cents a litre by shopping around.
The Bay of Plenty Times surveyed eight petrol stations in Tauranga and found that prices ranged from $2.10.9 to $2.15.9 for 91 and $1.44.9 to $151.9 for diesel.
It also showed that petrol was a few cents cheaper per litre in the Bay than main centres like Auckland and Wellington.
AA petrol watch spokesperson Mark Stockdale said retail petrol fuel prices fell four cents per litre during January and diesel six cents, largely reversing December's increases.
"The price of 91 octane petrol fell to $216.0 per litre in the main centres with diesel falling to $1.51.
"Refined fuel commodity prices rose sharply in December, leading to a five and four cent per litre increase in petrol and diesel prices respectively.
But come January, commodity prices fell while the exchange rate rose two cents."
It was impossible to predict what was going to happen in the future but prices had been stable over the past two years, he said.
"There haven't been any spikes previously in New Zealand, there will be nothing to worry or (be) concerned about if the Kiwi exchange rate stays strong."
Z Energy corporate communications Christine Langdon said the price the company paid for refined fuel had risen slightly this week because the New Zealand dollar was weakening .
"But at this stage we've been able to hold the prices.
"Due to strong [competition] in the Bay of Plenty, customers in the region can sometimes benefit from the fuel pricing below the national average, particularly in parts of Tauranga.
"We expect that to continue," she said.
Gull general manager Dave Bodger said he would take petrol predictions "with a grain of salt".
Nobody could correctly predict petrol prices, he said. "But it is our attitude to continually offer the best value in the market.
"Lots of people talk about having five-star fuel, my fuel gets 10 stars at the moment.
"We have the best fuel with the best value without the puffery around it," he said.
Tauranga petrol buyer Hannah Angus said she did not keep an eye on petrol prices.
"I have kind of got to the point of when I need petrol I just get it, I don't wait for particular days.
"When I go to Pak N'Save I do make sure I spend enough to get the voucher to use at the Pak N'Save pumps.
"It's not a decent amount - between four and six cents."