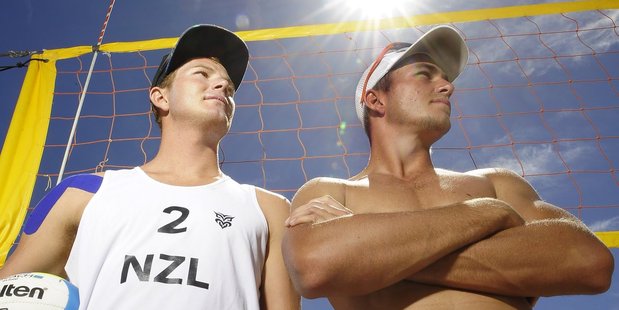 There was no love lost at Main Beach yesterday as the brothers O'Dea clashed to decide the New Zealand Beach Volleyball Open finals.
Sam O'Dea, along with fellow Otumoetai College old boy Mike Watson, won the bragging rights over younger brother Ben O'Dea and Auckland youngster Thomas Hartles in a gripping three-set final.
"It was a tough battle, the whole series.
"Every time we faced my younger brother and his partner it was tight and I'm glad we came out on top again," Sam said.
"It's a little bit bittersweet at times but, at the end of the day, you've got to be happy with the win."
The number one seeds, who have swept the home series of events to qualify for the Asian tour beginning in April, had earlier knocked out a combination including older brother Edwin O'Dea in the semifinals.
The 23-year-old Sam, who was imperious in the final alongside the lightning-quick Watson, said the pair would now turn their attention towards gathering sponsorship before heading to compete for the riches available in Asia and Europe.
Shauna Polley and Julia Tilley got off to a dream start in winning the opening set in the women's final against Vanuatu's Miller Elwin and Henriette Iatika but it did not last.
With energy levels clearly wavering after a tough road through qualifying, the Hamilton pair fell short of pulling off a massive upset against a combination that finished in the top 10 at the world championships. Both Polley/Tilley and O'Dea/Watson won overall tour honours and were met with warm rounds of applause from a large crowd on a scorching afternoon.
Scores:
Men's final: S. O'Dea/Watson beat B. O'Dea/Hartles 21-9, 16-21, 15-12. Women's final: Elwin/Iatika beat Polley/Tilley 18-21, 21-12, 15-8.