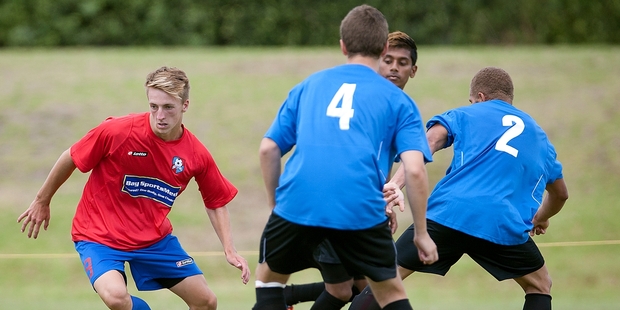 Football dreams for a 15-year-old do not come much bigger than this.
Connor Probert has been invited to fill one of the two positions open to New Zealand players to attend the glittering 2014 Nike All Asia Football Camp in Doha, Qatar, from February 9-15.
The camp brings together 60 of the top under-17 footballers from around Asia and the Pacific to attend a five-day training camp. Coaches from Manchester United, Barcelona and Inter Milan will run the camp and take the players through five days of challenging training sessions.
"The overall purpose of the camp is to give the boys exposure to coaches they would not normally have contact with from Europe and South America to see how they train and give them an experience that hopefully helps them reach their full potential as footballers," said Shane Rose, Nike's New Zealand sports marketing manager.
"It is especially relevant for New Zealand players given our geographical location, and therefore is an amazing opportunity to talk and train with some of the world's top youth coaches."
As an added incentive, the overall MVP from the camp will be awarded a week-long trial at Manchester United
Probert, who plays for WaiBOP United's youth team and won a football scholarship to train under former All White Danny Hay at Sacred Heart College this year, says he is looking forward to training and playing at the world class facilities in Qatar.
"I have seen the Dome over there and the fields and they are just immaculate," he said.
"It is top class. It will be good to see where I am at amongst the other players in my age group around Asia.
"With the coaches that are coming, it is also a great opportunity for me to get scouted if I have a good week. That has always been my goal. Anywhere that gets me playing as a pro I will be happy."
Probert has plenty of family advice at WaiBOP United with his father Paul assistant coach of Connor's team and older brother Tom, 17, a regular in the first team.
"[Dad] and me have a pretty good relationship. I know he is very harsh on me but it's only because he wants me to do well and be the best player I can be. He is the best coach I have ever had so I couldn't ask for anything more.
"Tom and I have played together for years and did so all last year. I still rate him very highly and think he is really, really good. He always pushes me so it is really good to see him out there playing for the first team."