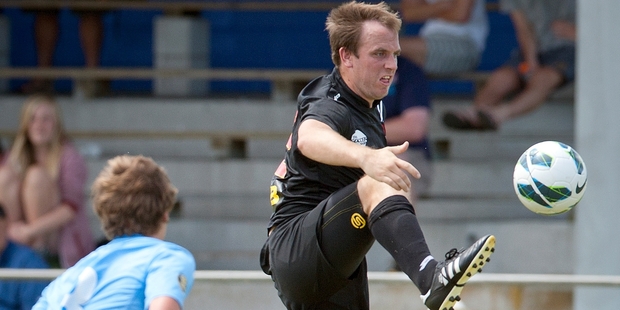 A fairytale homecoming to Links Avenue for Jack McNab has spurred WaiBOP United to just their third win of the season.
The Tauranga City United striker, who began the season on the bench before solidifying his starting position in recent weeks, scored a clinical brace to pace the home side to a quality 3-1 win against Wanderers SC.
The visiting side were bottom of the league with just one win from nine fixtures, but looked dangerous with the ball on the ground throughout thanks to a collection of age group stars.
They stressed United's defence multiple times - especially late in the first half - but lacked the size and killer instinct to make it count.
McNab opened the scoring seconds before the break by meeting a bouncing ball with a clever, turning touch to set up a precision volley from short range.
He doubled the advantage midway through the second spell with a timely run to the front post to meet a dipping, swinging corner that effectively sealed the result.
Wanderers captain Adam Mitchell got one back when he reacted quickest to a bouncing ball inside the six-yard box to make it 2-1, but Masaki Nomoto's stubbed free kick in the style made famous by Cristiano Ronaldo put the match away in spectacular fashion.
McNab was elated to have added two more goals to his first national league effort last week.
"It took me a while to get my first goal last week, but to get two this week was great," McNab said.
"Hopefully it's not too little too late and we just have to keep going. If we keep winning we can have a respectable finish.
"It didn't matter who we were playing or where we were playing - we needed a win.
"Morale is good at training, but on the pitch things weren't coming off."
WaiBOP coach Peter Smith had challenged McNab during the week to lead the side up front and was chuffed the tactic had paid off.
"I laid it down to Jack earlier in the week," Smith said. "I said this is your ground mate, your stomping ground, and you've scored a bucketload of goals last year and done exceptionally well for Tauranga City, and I asked him whether he could replicate that for us.
"It probably put a wee bit of pressure on the lad, but to be fair he's come up trumps and that's what he does. Apart from the goals, he worked hard and put on a phenomenal performance."
Smith was happy his side had kept its shape well despite some serious pressure from the young opposition.
"We've worked hard this week on our structure. Obviously you've got some of the best players in the country in under-20 squads so we knew they could play.
"They've got two high-quality coaches so we knew tactically they'd be up there. I think we stayed in our formation and had good structure."
The sides' only visit to Mount Maunganui this season drew a solid crowd, with hot chips selling out before half time.
"For the franchise it's good to come here," Smith said.
"Obviously I'm a local lad, but we've said from the start that to get buy-in is important. It's great to see some of the young kids here hopefully aspiring to play for WaiBOP in the years to come."
WaiBOP United 3 (J. McNab 2, M. Nomoto) Wanderers SC 1 (A. Mitchell)