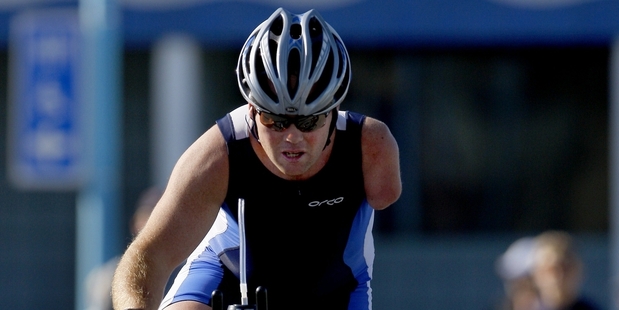 Some people are said to swim like a fish, but not Jack McSweeney.
He swims like a dolphin.
An initially undiagnosed broken neck sustained playing rugby in 2006 led to McSweeney's left arm being amputated at the shoulder, beginning a sporting odyssey leading to the world of triathlon and a unique swimming stroke that proves necessity is the mother of all invention.
"When I first met him I got in the pool myself and tied my arm down by my side," coach Murray O'Donnell said at the Eves Pilot Bay Classic Triathlon yesterday morning.
"I swam five or six lengths with the normal style - stroking, turning and breathing - and it was really difficult. So he swims kind of like a dolphin, where he keeps himself sort of on his side.
"He keeps the movement going all the time and finds it really comfortable."
McSweeney's progress has since been rapid.
"When we started coaching last March he had to stop on almost every length.
"We gave him a programme and did a lot of work with him initially to give him a bit of incentive, and he's got up now to doing more than 40 lengths and has a harder programme."
The reigning world champion in the M65-69 classification, who doubles as a level two coach, believes McSweeney is a big chance of representing New Zealand at the 2016 Paralympics.
"His attitude to everything is incredible. He's lost about 10kg since we started training.
"His wife makes delicious cakes, so I told him to give them to me."
McSweeney, who completed his first full Olympic-length triathlon yesterday, suffers phantom pains down his left side thanks to an injury that reads like a horror story. "I broke my neck at C1 and C2 playing rugby and no one diagnosed it.
"I had a week off and then played for a couple more weeks, then six weeks after the injury went into a copybook tackle and tore the nerves out of my spine. That's when they found out I had a broken neck, which led to operation after operation."
With the procedures completed, McSweeney turned his attention to his love of competition.
"With my phantom pain I tried rowing and also small bore rifle shooting, but it was difficult finding people to work with in rowing in such a small country," McSweeney said.
"The shooting was alright, but I had pain issues. If I made it to worlds and had a bad day with pain I wouldn't have been able to compete to my full extent.
"With swimming, cycling and running I've found I can get through it ... you just have to work through it like any sport.
"Heaps of people go through trials and tribulations, you've just got to take a positive attitude and it can be easy to get through," McSweeney said.
"Life goes on. There's no point standing still and feeling sorry for yourself."
Sprints up and down Oropi Road on a bike supplied by the New Zealand Rugby Foundation and set up by Avanti Plus are part of his reward, along with routine 750m swims against the tide under O'Donnell's direction.
McSweeney, who moved to the Bay from Matamata about four years ago, works in primary schools under the umbrella of Athletics New Zealand and is targeting races in Wellington and Auckland this season.
Matt and Sarah Backler were the big winners at Coronation Park yesterday, claiming the men and women's double thanks to a pair of solid performances in strong westerly winds.