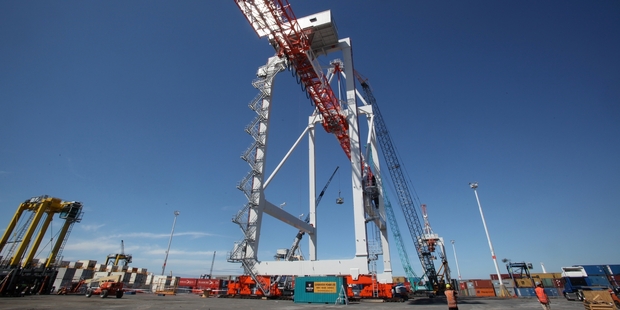 The Port of Tauranga is looking to introduce a drug and alcohol policy and is negotiating with unions over drug testing workers.
Port company corporate services manager Sara Lunam said the port was aiming to have a drug and alcohol policy in place by the middle of this year.
However, a preferred testing method cannot be decided upon and one union is opposed to random testing.
"We are having really constructive dialogue around our proposal ... We can't say it will be random testing because we are still going through the process, but that is our desire," Ms Luam said.
The issue of random versus reasonable cause testing was secondary from the union point of view to whether it was urine or saliva testing.
Rail and Maritime Transport Union's general secretary, Wayne Butson, said the union favoured testing mouth saliva to detect whether a worker was safe to be on the job.
He said the union was opposed to members being subjected to urine sampling because drugs like cannabis showed up even if the last time a person had used the drug was three weeks earlier on holiday.
"Saliva delivers all of what they say whereas urine sampling was a window into the lifestyle of the person for weeks, if not months."
Saliva versus urine was one of the main issues being negotiated for the Port of Tauranga's proposed drug and alcohol policy to randomly test workers employed directly by the port company.
The other big union working on the wharves was the Maritime Union of New Zealand, whose members were employed by stevedoring companies.
Mr Butson said negotiations with other port companies had seen the union push back against urine testing rather than oppose random sampling.
"If you want people to be safe at work, saliva does that."
He said saliva testing was the least invasive and showed up the drugs and alcohol that a person had consumed over the previous 12 hours or so.
Where random sampling had been introduced in other ports, it was on the basis that workers were rehabilitated if they tested positive and were not sacked.
The other advantage of saliva testing was that amphetamines were always detected, unlike in urine samples. However, the problem with saliva was that there was no New Zealand Standard for testing it for drugs and alcohol.
He said drug testing companies ran a process with employers in which anything put in place needed a New Zealand Standard in order to stand up in court. It meant that saliva was being used as an indicator which, if positive, led to a full urine test.
Maritime Union Bay of Plenty branch president Peter Harvey said the union still opposed random testing. "There should be a genuine reason for a saliva test."
He said it should be based on a reasonably good objective assessment, such as the person showing signs of impairment.
Port CEO Mark Cairns said last year that they had not had a problem so far, but safety was paramount.