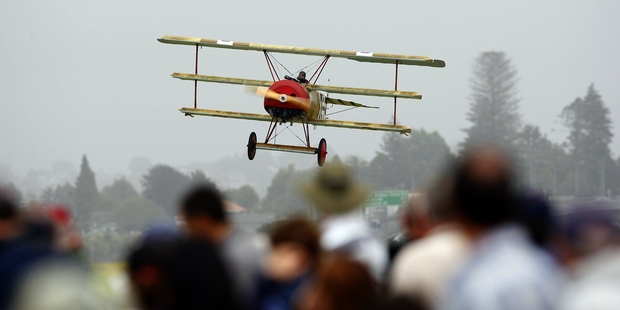 A naval aircraft designed to hunt out enemy submarines, a 1965 Hercules and a legendary World War I British fighter plane drew thousands to the Classics of the Sky Tauranga City Air Show yesterday.
Day two of the biennial event started with the Royal New Zealand Airforce Kiwi Blue parachute display team dropping in on the huge crowd, which showed up despite the wet weather.
As World War I classics defied gravity in the skies above, hundreds lined up to get a look at the inside of a P-3K2 Orion, a naval aircraft and a Royal New Zealand Airforce Hercules on the ground.
Cloud cover meant the aircraft had to fly lower than expected, changing up their routines slightly, but it just added to the noise and excitment, according to show goers who said they were already looking forward to the 2016 show.
Tauranga's Sarah Rowlands said her family had a "fabulous time", despite the bad weather.
"It was the first time I have been and I took my 2-year-old son, Jacob. He just loved it. I'd say his favourite part was being able to sit inside the cockpit of the Orion. That is not something you get to do often. We are already looking forward to the next show."
Airshow organiser Andrew Gormlie told the Bay of Plenty Times he was watching the clouds the entire day, hoping they did not come any lower.
"But in the end it stayed clear enough for us and the whole day was just superb," he said.
Show organiser David Love said seeing the Sopwith Camel, a legendary World War I fighter plane, take to the sky was one of the highlights of the day.
"This year's show was all about commemorating the 100th anniversary of World War I," he said.
"It was about reminding people of the sacrifices made.
"It was amazing to see these planes, that were in the skies not long after the birth of aviation and then think about how far we have come since then."