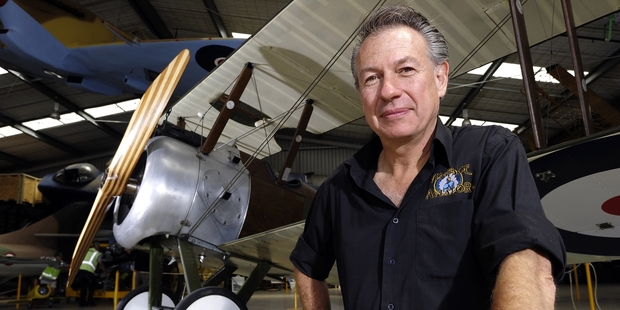 The world's most experienced pilot of the legendary World War I British fighter plane, the Sopwith Camel, will bring all the thrills of the dogfight to the Classics of the Sky Air Show at Tauranga Airport tomorrow.
Gene De Marco of Vintage Aviation will be looping the loop and defying gravity as his Camel and a little French-built aircraft, the Nieuport, take on the might of Germany's Fokker triplane and Albatross.
The organisers of the air show commemorating the 100th anniversary of the start of World War I say the weather forecast is coming right for tomorrow, stating the show will go ahead no matter what. Today is practice day, with tickets costing $20.
Mr De Marco spent Thursday attaching the wings to the fuselages of the Camel and Nieuport which were trucked to Tauranga from Masterton especially for the massed dogfight, to be followed by a one-on-one "Snoopy and Red Baron" encounter.
The replica Fokker and Albatross were flown from Masterton because they had modern replica engines, unlike the Camel and Nieuport which, although exact replicas, were powered by original 100-year-old engines.
The American pilot had such a specialist knowledge of Sopwith Camels that he was brought out to New Zealand in 2001 just to fly the aircraft, and decided to stay.
He said the Camel demanded respect because its 160hp engine was so powerful that many pilots emerging from training in World War I overcooked the turns and the gyroscopic effect of the engine overcame aerodynamic forces and they crashed. "It killed more pilots in training than any other aircraft."
Mr De Marco said the Sopwith Camel was a crowd favourite because of its phenomenal rate of climb, manoeuvrability and noise. "All the weight was in the centre of the aircraft which makes it extremely manoeuvrable."
And unlike other vintage fighter aircraft, the Camel had a hole in the wing above the pilot so that in a turn he was able to keep the enemy in his sights.
"Everyone loves the Camel, they can't believe it."
Mr De Marco reckoned he had spent more time flying Sopwith Camels than anyone else.
"I have a special affection for the aircraft, it has treated me well. All aircraft have their own personalities and there are some you like more than others, and I really like this one."
The Camel was acquired by Vintage Aviation from Kiwi film-maker Sir Peter Jackson who bought it for the making of the King Kong movie, although it was never used for that purpose. The only part of the aircraft that was not an exact replica was the steel tubing used to form the fuselage, rather than wood used in the original fighters.
Meanwhile, air show organiser David Love said people could still buy tickets online for the event, saving $10 on the gate price and making it faster to get in.