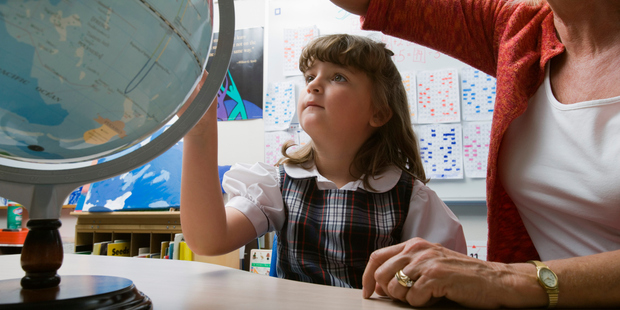 Some Tauranga families struggling with back-to-school costs are arranging time payments with schools to cover their bills.
Budget advisers say this is the toughest time of year for families - costing as much as $600 for some college students, including uniform, donations, stationery and camp fees.
And parents are turning to second-hand uniforms to save money, with a Facebook page selling Tauranga uniforms attracting more than 500 members and growing by the day.
A study this week showed that almost half of Kiwi families say the cost of sending children back to school at the start of the year was a big challenge and, for some, the biggest financial burden they face.
Tauranga Budget Advisory Service co-ordinator Diane Bruin agreed and said February was the service's busiest time of year.
"It is a big cost that needs to be budgeted for. It's the aftermath of Christmas, the credit card payments and the kids have been on holiday - and then you've got the back to school costs."
Otumoetai College principal Dave Randell urged parents in financial strife to let the school know.
"This is a decile 8 school but there are a huge number of people who are finding it very difficult. We try where possible to make it easier.
"Don't be embarrassed, come and ask us, we are here to help out."
More than 200 families were paying off school costs on automatic payments, he said.
"We have families who have been paying $5 a week ever since they arrived at the school, and when they leave, we rebate anything that's left over.
"If your child is playing a sport and you know there is a trip coming up in two years, parents start paying $10 a week now to cover it and, if they don't go, they get reimbursed."
The school also gave out uniform items to families in need - sometimes a pair of socks or a jersey and, in some cases, the whole uniform to families.
While uniforms were an initial cost, they were designed to save money in the long run, Mr Randell said.
The school tried to make it easier for parents by holding a second-hand uniform sale and giving stationery lists so parents could shop around for the best deals.
Tauranga mother-of-two Maxine Paterson started a Facebook group to buy and sell school uniforms after noticing demand from parents trying to cut costs.
The open group - School Uniforms New & Second Hand BOP Area - allows parents to buy uniforms at less than half the cost of new.
Ms Paterson, whose children Jorja, 10, and Corbin, 7, go to Gate Pa School, estimated she could save nearly 60 per cent - $137.50 - by buying both her children's uniforms second-hand.
Because uniforms tended to be good quality, there was plenty of wear in a second-hand one, Ms Paterson said.
Buying school stationery was another expense - costing $26 for her son in Year 3, and $29 for her daughter in Year 6.
While the school sold stationery packs, Ms Paterson would prefer to be given a list so she spread the cost throughout the year.
But she was pleased with the school's policy that children could wear any type of shoes - saving money on having a pair just for school.
Shopping around has saved Margot Ardern $155 on back to school costs. The Welcome Bay mother's children, Ryan, 13, and Emily, 11, are both starting new schools this year - meaning uniform costs are at a maximum.
"I worked out that just buying my son's uniform, not including the winter stuff, was going to cost around $220 [new]. My daughter's was $250."
Instead, she went second-hand and bought Emily's Otumoetai Intermediate uniform for $50 and Ryan's Otumoetai College uniform for $80 - including new shorts. The super budgeter also saved on stationery costs. The college supplied a list of her son's stationery needs, and through shopping around and using shops' "price matches" and discounts she managed to grind the $55 cost down to $40.
Mrs Ardern put aside money in September and October to pay for the expensive summer months.
Matua mother-of-three Elizabeth Galloway said she could not justify spending $110 on new uniform jackets for her son, Bailey, 15, and daughter Delmara, 13, at Otumoetai College.
"I would rather go the cheaper way. With three kids you are also buying new school bags and that sort of thing, because they ruin them."
She managed to buy her son Jordan's entire Otumoetai Intermediate uniform - shorts, top and jersey - for $30; a saving of $125.
"It's pretty good when you pay $30 for just a top [new]."
She planned to recoup that money by selling the uniform he grew out of last year.