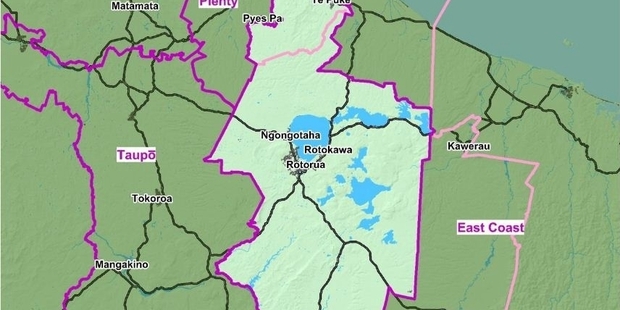 Changing electoral boundaries to include Te Puke in the Rotorua electorate is absurd, says independent MP Brendan Horan.
Mr Horan said Te Puke should be part of a Tauranga electorate, as should Maketu, which could end up as part of the East Coast electorate under proposed changes to the country's electoral boundaries.
But Rotorua MP Todd McClay said Mr Horan was "woefully ill-informed" and rejected his comments.
In November, the Bay of Plenty Times printed details of the New Zealand Electoral Commission's proposed national electoral boundary changes.
The proposals could see the Rotorua electorate gain Te Puke and the surrounding Western Bay of Plenty area, and lose the area around Maketu to the coast.
It could also lose Kawerau to the East Coast electorate.
Mr Horan, Tauranga-based independent MP, believed the four National Party ministers in the Bay of Plenty - Todd McClay, Tony Ryall, Simon Bridges and Anne Tolley - were now too busy to look after their electorates properly and the proposed boundary changes would make that even worse.
"To have Te Puke in the Rotorua electorate is absurd. There is no common interest between the two, especially when it comes to kiwifruit exports."
Mr Horan said he would like to see two Tauranga electorates - either east and west or south and north Tauranga - with Te Puke included as part of one of those due its association with the Port of Tauranga.
He said Maketu should be within a Bay of Plenty electorate, preferably within Tauranga.
Maketu was part of the Bay of Plenty, not the East Coast, and for people to have to travel to Gisborne to see their MP was ludicrous, he said.
"These people will be penalised and will lose their voice.
"So it's really important people make submissions, otherwise it will just roll through without objection.
"What's really important is we get back to geographical boundaries that have common areas of interest. This will need legislative change to get the [electoral] commission to stop doing it by population figures alone," Mr Horan said.
Mr McClay said Mr Horan was "woefully ill-informed".
"I take representation of the whole of the Rotorua electorate extremely seriously, which is why I have three offices in my electorate - in Rotorua, Kawerau and, for more than five years, in Te Puke. I hold regular constituent clinics in Te Puke and Kawerau, have permanent staff in these offices, and attend many events in the wider Te Puke area on a frequent basis."
He said Mr Horan's views were out of step with local people.
"Equally, Anne Tolley has an office in Whakatane and Gisborne, and we have agreed that should the current boundary proposals remain we will share an office in Te Puke to ensure constituents of the wider Bay of Plenty area continue to be well represented.
"If Mr Horan is to have any future in politics he probably needs to realise that being an effective MP is more difficult than reading the weather on TV.
"I'm disappointed he's trying to have a bob each way on boundary changes," Mr McClay said.
In response, Mr Horan dismissed Mr McClay's comments, saying he was not ill-informed and had done plenty of research surrounding the proposed boundary changes.
"Todd's just being political. What does he know about Te Puke?"