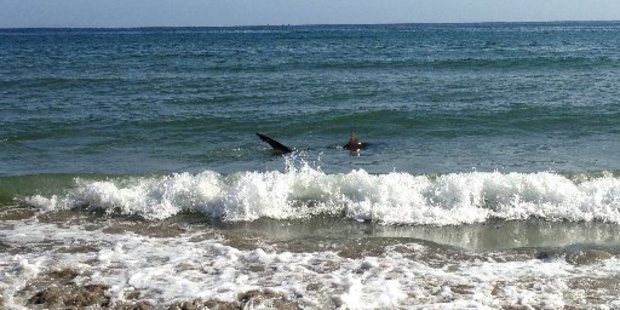 A shark swimming in the shallows at Papamoa Beach was so close to shore local resident Richard Hoit says he could have "reached out and touched it".
Mr Hoit was going for a morning stroll with his wife Trish yesterday when they spotted the large shark, believed to have been a bronze whaler. They took a photo of it as it cruised along the beach.
The encounter had not put him off getting into the water.
"The photo says it all. You could have reached out and touched it," he said.
"I didn't think that it could get in that close without beaching itself."
He estimated the creature was between 2 metres to 2.4m long but "it was hard to tell" and probably 60cm to 90cm from where they were on the beach.
"All I could think was, 'Wow, that is big'," he said.
"I thought it was an urban myth that they came in that close. You could be up to your knees in the water and it could be right there."
He said it "played" in the surf along the beach for about 10 minutes and "was in no hurry".
"It was circling around, cruising along the beach at about walking pace with us before meandering back out to sea."
He said being able to "appreciate the scale, how big they were and to see it that close was really interesting".
"It's disproportionate the fear people have of sharks."
He said he would take a dip later that day and shark culling in Australia was "obscene".
"They are beautiful, the power ..."
The shark was spotted between Papamoa Surf Lifesaving Club and Harrisons Cut.
Papamoa SLSC Secretary Anita Trappitt said there was a shark sighting at Papamoa Beach mid-morning yesterday.
"I didn't see it myself but it didn't pose any risk to swimmers," she said.
She believed the shark sighted at the surf club was only one metre long.
Numerous shark sightings this summer have been put down to clearer water and smaller surf.
Department of Conservation marine scientist Clinton Duffy earlier this month told the Bay of Plenty Times that bronze whalers were a common sight at Bay beaches in summer and people should not panic on seeing them.
"Normally they don't pose any risk to swimmers because they are a specialised fish eater."
However, he warned if people saw a shark and could not identify it, they should leave the water.