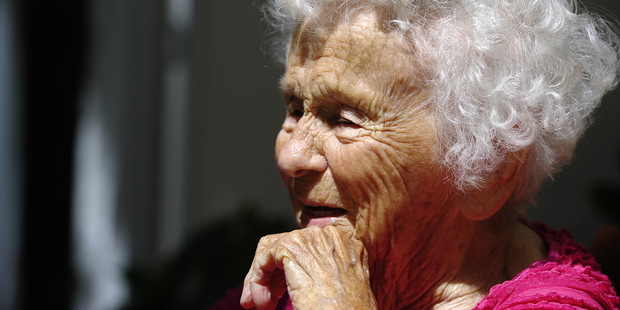 Six years ago Anne Wakerley wasn't expected to live after she fractured two vertebrae in her neck in a car accident - today she is celebrating her 100th birthday.
Mrs Wakerley drove her car down her driveway and accidentally hit the accelerator instead of the brake, crashing into a mailbox across the street.
"I could not take my foot off the accelerator. I knew I had to, but I just couldn't do it," she said.
No one in the hospital expected her to live, but nurses told her they were there to save life, not lose it.
"They still treated me to give me life. They saved my life."
Mrs Wakerley was born in Auckland.
She ran away from home when she was 16 and booked herself into the Young Women's Christian Association, taking her savings of 30 with her.
"I never thought 'Oh, what will I do?'," she said.
Shortly afterwards, she went to England with her grandmother and decided she wanted to be a hairdresser.
Her grandmother told her she could work in a bank.
When Mrs Wakerley's grandmother was diagnosed with cancer, the doctor told them they had to go back to New Zealand.
Mrs Wakerley married Harold Wakerley, known as Dan, in 1934.
Their first son, Jim, was born the day after Mrs Wakerley's 21st birthday.
"I knew I wouldn't get a present because we were so poor but he was my present."
Their second son, Harry, was born four years later.
Mr Wakerley fought in World War I but died in 1964 from emphysema, making Mrs Wakerley one of only a few surviving World War I widows.
She has also done missionary work in Cyprus, Ethiopia and Madagascar.
Mrs Wakerley moved to Tauranga in 1985 and has seven grandchildren, 16 great-grandchildren and three great-great grandchildren. In her 80s, she joined Age Concern as a driver to take people out to do their shopping and other small jobs because she "thought she should be doing more".
"She used to say 'I'm going to take my olds out today' and they were younger than her," Harry Wakerley said.
Last year Mrs Wakerley moved to Bob Owens Rest Home.
Mrs Wakerley loves her church and has been an elder at the Central Baptist Church in Tauranga for 13 years.
She still attends services every Sunday.
She believes there is a time for everyone to be born and for everyone to die.
"She's lived to the fullest that she could, she's had a great life," Harry Wakerley said.