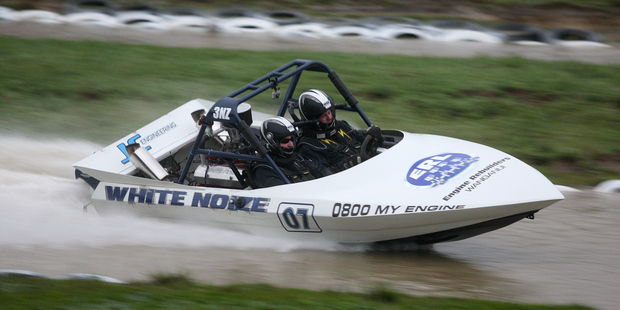 Excavation work begins next week on transforming ASB Baypark Stadium into a fast-paced jet boating wonderland - and creating a world-first in the process.
Diggers will be on site from Monday, moving soil to create a complex network of water-filled channels as Baypark prepares to host the world's first V8 Jetsprint races inside a stadium arena.
The ENZED V8 Jetsprints @ ASB Baypark will be staged on Saturday, January 25. It will mark Round 2 of the NZ Jetsprint Championship Series. It will be the first time the sport is held in an enclosed seated sporting stadium anywhere in the world.
The temporary circuit, which will be dug out in the stadium's centre, will feature twisting, five-metre-wide channels covering 450 metres in total, at a depth of between 40 to 70 centimetres. The channels will include hair pin bends and straights and is estimated that 1800 cubic metres of dirt (about 180 truckloads) will be trucked out of the stadium.
The soil removal is expected to take three days, with the channels filled with water during the week preceding the event. The soil will be stored on ASB Baypark fields adjacent to the stadium and will be returned to site and re-turfed post event.
Geotechnical engineers and turf and water experts were engaged as part of the planning process.
Organisers are hoping to attract crowds of up to 15,000 to the event, which will see as many as 50 teams from New Zealand, and about six from Australia, competing in three classes - Suzuki Superboats, PSP Group A and the 400's.
Speeds of up to 130 kilometres per hour can be expected, with crews of two racing individually against the clock through the channels, providing fast-paced action for spectators.
Tickets to the upcoming event are available at eventfinda.co.nz, ASB Baypark Arena reception and Creative Tauranga office until January 24.
A day pass for a family of five costs $65.00, with adult GA tickets priced at $25 and Senior and Child passes at $10.
Tickets will also be available on the day with a $10 gate surcharge on Adult and Family tickets.