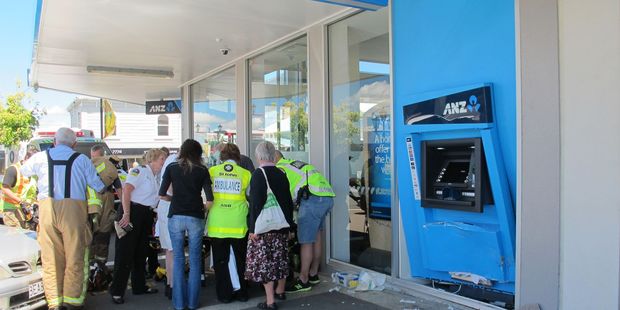 A Waihi woman was hit by a car while she was at an ANZ ATM today.
A witness who was on the opposite side of the road said he heard a loud bang about 11.20am, looked up to see a grey car suddenly coming off the footpath outside the ANZ Bank.
A Waikato Hospital spokeswoman said the 66-year-old was still under assessment this afternoon.
Local cafe owner, Tom Ransom, was sitting on a seat having a smoke when the incident happened.
"I saw the woman fall to the ground, I ran over, yelled to the bank to call 111. The car was backing off the footpath. I grabbed the passenger door and yelled at the driver not to go anywhere."
He then went to the woman where other people were already starting to help her.
"I saw what at happened to her - they were pretty severe leg injuries."
ANZ Bank staff attended to the woman until St John Ambulance staff and Waihi Volunteer Fire Brigade arrived.
Waihi police constable Dave Grant said it appeared a car had driven up over the kerb and had hit the woman who was at the ATM. The male driver was helping police with inquiries.
The car was in a disabled car park but there did not appear to be any disabled stickers in the car.
The woman was airlifted to Waikato Hospital.
The Serious Crash Unit is carrying out further investigations.