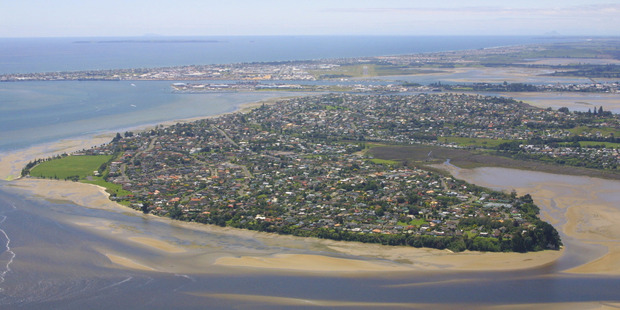 Sand dredged from Tauranga harbour could be used to transform a number of inner city beaches.
The Tauranga City Council is preparing an application to the Bay of Plenty Regional Council for consent for sand renourishment at several harbour reserves including Kulim Park, Memorial Park, Fergusson Park, and the Maxwells Rd Esplanade Reserve.
The plan could also reduce the amount of sea lettuce washing up on inner city beaches.
Harbour dredging, natural erosion and development has seen many of the once-sandy harbour beaches turned to mudflats but work to restore them could start as early as this year, according to Mayor Stuart Crosby, who said the application was set to be lodged within the next few months.
Work to replenish the beaches was anticipated to start in the 2014/2015 financial year, if the application was successful.
Most of sand dredged from the harbour is dumped out at sea, about three nautical miles off the Mount Maunganui coast, with three other key sites designed to deposit sand at Mount Maunganui and Papamoa, Port of Tauranga chief executive Mark Cairns said.
The port, which has been granted resource consent to dredge 50 million cubic metres of sand from the harbour, also deposits sand from its regular dredging maintenance programme on to Pilot Bay.
Mr Cairns said he was willing to talk about the beach renourishment plan with the city council and said it could transform the city beaches.
"There are old photos which show the Mount was once a rocky beach, sand replenishment has transformed it, the same could perhaps be done on the harbour beaches, too.
"We will have a fair bit of extra sand to deal with soon."
The cost of the replenishment plan was to be determined, according to city council manager open space Marie Gordon, who said the plan might also improve the management of sea lettuce by filling in troughs at the foreshore where the plant settles. She said it could also create a further barrier between sea lettuce and harbour-side structures such as sea walls, along with reducing erosion of the harbour margins.
"There have already been a number of successful, consented, smaller scale renourishment events in recent years at locations such as Pilot Bay, Beach Rd, Whareroa Marae and Sulphur Point and this consent application aims to increase this activity," Ms Gordon said.
"However, one example nationwide of an extremely successful renourishment project in recent years was at Oriental Parade in Wellington, which dramatically increased the use and enjoyment of this prominent Wellington beach."
Mr Crosby said council had been exploring ways to restore the beaches for some years. The plan would increase the amount of people using the beauty spots and protect the shoreline, he said. "I remember going to Memorial Park in the 60s and back then it really was a premier park with a beautiful sandy beach," he said.
"It would be great to restore these beaches to what they were instead of looking at harbour beaches flush with bleached sea lettuce.
"Tauranga is known for its inner harbour beaches and estuary and we need to focus on how to protect and enhance these areas."