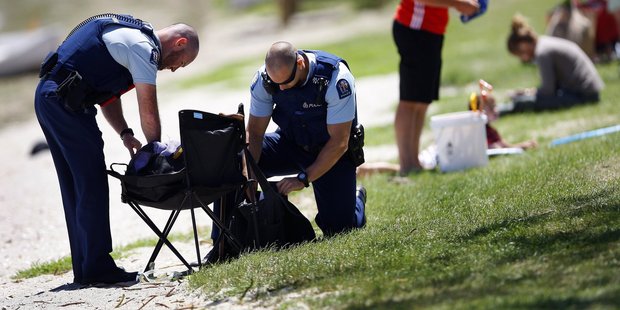 A father and son have described how they desperately held an unconscious man to the bow of their boat and rowed frantically to shore after finding him lying face down in the water at Pilot Bay.
The men, and the son's partner, who performed CPR, have been labelled as heroes by witnesses who watched as beachgoers attempted to resuscitate the 67-year-old Hamilton man who had stopped breathing.
The man, who had suffered a cardiac arrest while snorkelling, was in a critical condition at Tauranga Hospital last night.
Mark Williamson, and his father Noel, told the Bay of Plenty Times they had spotted what they thought was a large pillow floating in the water off Pilot Bay just after 1.30pm yesterday.
They soon realised it was a snorkeller who had waved at them just minutes before. He was unconscious and face down in the water.
The pair pulled the man's head above the water. Their dinghy could not carry another person, so Noel held the man at the bow as his son rowed frantically to shore.
"I was just screaming to the crowd on the beach to call the ambulance and get the kids off the beach," Mark said.
"The poor guy was not in a good way, his face was blue. I don't know how long he was under but I was sure it was too long to be good news."
Mark's partner, Andrea Thompson, performed CPR on the 67-year-old Hamilton man.
"I really didn't think he was going to make it but I knew I had to try," Ms Thompson said. "He had a really faint pulse."
A nurse from Tauranga Hospital joined Ms Thompson, a Rotorua Hospital staff member, to try to resuscitate the man.
The pair worked on him for more than 10 minutes until St John Ambulance staff arrived and took over.
"We had just gone to shore to get some water for on the boat; it was a case of right place at the right time and I have never been happier to know CPR," Ms Thompson said. Mount Maunganui resident Paula Smith praised the group, saying she had never seen people act so fast in an emergency situation. "I have never seen anyone row so fast," she said.
"It was like watching an Olympian, so fast and frantic."
Another Mount local, who asked not to be named, described the scene as "crazy".
"They were compressing for what felt like an eternity and we were all just holding our breaths and praying for him. It really did not look good for a long time then all of a sudden one of the ambulance guys yelled out: 'I have got a strong pulse'. I heard people cry out with relief, we really thought he did not have a chance. The two guys that helped him looked so happy, some people were crying."
Ms Thompson said the trio just did what anyone would do in that situation. "To be honest everyone involved was great," she said.
"Someone called the ambulance, there were a lot of people involved, we were all focused on keeping him alive, it was a terrible situation but we all worked together."
Ms Thompson said they were "crossing their fingers" the Hamilton man would pull through.
A Mount Maunganui St John spokesman said the man had suffered a cardiac arrest but paramedics were able to resuscitate him.
"He arrived at hospital breathing by himself but still unconscious," he said.
The drama comes after a spate of water incidents in the Bay, with three people dead and numerous others rescued.
A St John ambulance spokesman said emergency services were also called to treat a young female who nearly drowned at Maketu about 5pm yesterday.
The spokesman said passers-by saved the girl, who got into difficulty in the water and was swept from shore.
It is understood she was taken to Tauranga Hospital to be checked over.