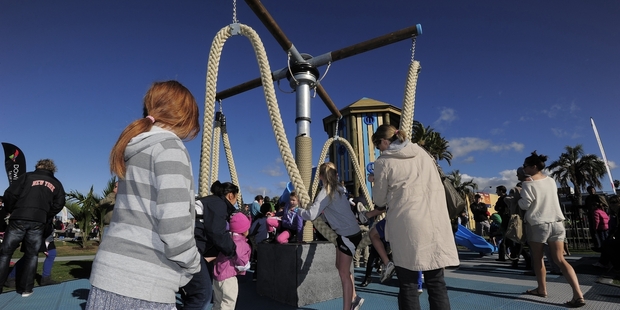 Dozens of Western Bay kids are being injured at playgrounds every year, sparking warnings to parents to watch over their children.
Almost 280 local playground injury claims have been lodged with ACC since 2008, costing taxpayers $67,232 in rehabilitation costs.
Western Bay girls suffered more injuries than boys, and 5 to 9-year-olds were most prone to painful playground accidents, ACC figures showed.
Nationwide, monkey bars caused the most injuries, followed by flying foxes, jungle gyms, climbing frames, seesaws and merry-go-rounds.
Tauranga City Council parks operations team leader Steve Webb said council playgrounds were designed in accordance with New Zealand Standards for playground equipment and surfacing. These were not mandatory but set out design guidelines.
"As our environment becomes more built up, the importance of playgrounds and that sort of stuff for recreation just increases," Mr Webb said.
"The idea isn't to make them as safe as possible, it's to make them as safe as necessary."
The council received wide-ranging feedback from parents, from notification of broken bones through to concerns because a slide was "too fast".
"If something's broken or snapped or not working we want to know about those sorts of things."
Maintenance checks were done on high-profile council playgrounds two to three times per week in summer, and once a week in winter.
Council-run playgrounds were not the only playgrounds on offer, with shopping malls, schools and preschools responsible for their own equipment, he said.
Statistics gathered by Safekids New Zealand show fall-related injuries, which include falling from playground equipment, are the leading cause of unintentional child injury resulting in hospital admission.
Between 2005 and 2009, on average more than 1700 children aged 5 to 9 were admitted to hospital each year after falls, University of Otago data showed. Overall, boys were more likely to end up in hospital and more than half of all fall-related child hospitalisations involved falls from playground equipment.
Safekids director Ann Weaver said primary school-aged children suffered the most injuries as they started to gain independence and became subject to less parental supervision.
"The attitude in New Zealand is ... 'she'll be right' and 'children need to take risks and learn from experience'."
However, recent research showed repeated "little taps to the head" from a fall in the playground or playing contact sport could lead to brain injuries later in life, Ms Weaver said.
Serious falls causing broken bones or internal injuries could also result in long-term consequences and limit the chances of playing sport later in life.
"Children's heads are more fragile at that age and we do need to be a little bit more cautious about trying to reduce these horrific fall statistics.
"We want to encourage active [parental] supervision - it's not sitting on the bench off to the side, reading the newspaper or having a coffee and chatting. It's actually being there next to your child or within reach and watching what they're doing.
"I know that I'll get shot down for mollycoddling children but that's not what it's about. I don't think it's acceptable for that number of children to be hospitalised."
New Zealand compared "very poorly" with other countries in terms of child hospitalisation statistics, Ms Weaver said.