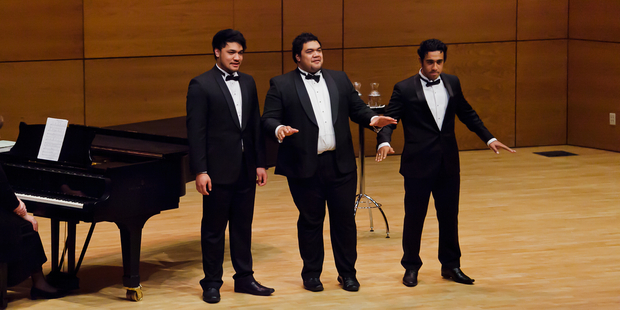 Tauranga missed out on the sellout tour by the classically trained Auckland singers SOL3 MIO because the promoter was not prepared to take the risk after concerts by the trio in the city last year.
SOL3 MIO's chart topping debut album has helped drive their success so much that only a few tickets were left unsold for their 14-venue national tour starting March 4.
The tour included the North Island provincial cities of Whangarei, Hamilton, New Plymouth, Palmerston North, Wanganui, Hastings and Napier, but bypassed Tauranga.
Dave Munro, the agent for promoter Eccles Entertainment, said Tauranga was left off because SOL3 MIO performed two shows in Tauranga last month. While they could have performed in the city again, the financial risk would have been "quite high".
Although Tauranga was always a great market for their shows, it was just too soon between drinks for SOL3 MIO, he said.
Baycourt's manager Pip Loader assumed that the reason why Tauranga was bypassed was SOL3 MIO's Waipuna Hospice fundraising performances in Holy Trinity on December 7 to audiences of 1600 people. The trio had also performed a sellout show in the city on September 22.
On the bigger issue of why Tauranga was often left off the touring schedule of large shows, she said that if it was a choice of Hamilton, Tauranga or Rotorua, the promoters opted for Hamilton's Founders Theatre because it was twice the size of Baycourt. Touring costs were high.
Mrs Loader said the Bay and Waikato were often put together as one region on the incorrect assumption that Tauranga people would travel to Hamilton to see a show.
She has been actively canvassing promoters, assuring them that Tauranga was more than a retirement city and letting them know what Baycourt had to offer.
"It takes a long time to change people's perceptions about a venue. It is a slow ship to turn."
Mrs Loader said Baycourt was considered to be one of the best equipped and technically adept performing arts venues in New Zealand. "Performers love the theatre."
Friends of Baycourt chairman Dale Henderson said that sometimes the reason why touring professional shows did not come to Tauranga was because their dates clashed with a previous booking.
"It may be that being two hours' drive from Auckland does not help. A lot of people can access shows in Auckland."
He said a lot of factors came into it, and it could come down to how the tour fitted together and what days were available. "There are so many factors for why a show may or may not come to Tauranga.
"Sometimes it is because the theatre was not physically big enough."
While the Friends were keen to attract more big shows, the economic reality for promoters was that it was not viable. Different shows had different reasons for not coming to Tauranga and Baycourt's 600 seats were right for some show shows but not the larger ones.
Mr Henderson said that sometimes it was more viable to put on a couple more shows in Auckland and advertise into Tauranga.
"You can bend over backwards to encourage promoters to come but, at the end of the day, they have to toss up what venue works best for them."