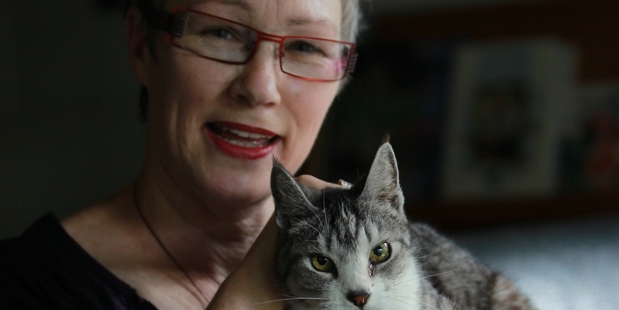 A last-ditch effort has been mounted by nurse Denny McLeod to save as many as possible of the 50 feral cats in her care.
The former Bay Polytechnic nursing tutor became legally responsible for the cats once she started feeding the colony near Katikati to limit damage to birds.
But her dedication to the welfare of the colony will probably end with most of the cats being destroyed during the next month.
She has been given notice to leave her rented farmhouse on a 4ha Apata avocado orchard, which is for sale.
With the process of trapping and euthanising the cats about to begin, Ms McLeod has issued a final heartfelt plea for rural residents to urgently consider the benefits of introducing barn or farm cats to their properties.
"Time is of the essence."
An Aongatete farmer has agreed to take three of the cats after being convinced that once they had been confined to a shed or barn for three weeks and fed regularly to stop them running away, they would became an indispensable part of pest control.
Ms McLeod's previous appeals had resulted in all the kittens in the colony finding homes, but she said most rural people did not understand the role wild cats could play in reducing pests dramatically and protecting crops.
She started to feed the abandoned cats on the edge of the orchard to reduce preying on birds.
Ms McLeod said that during the last four years the cats had dealt to rats which used to feed on the avocados, had driven off stoats and she had not heard or seen a possum in the area for more than three years.
"There has been a big shift in the ecology of the area because of the cats." The big bonus of feeding them had been the return of birds. "The morning chorus is absolutely beautiful."
She was convinced desexed feral cats had a place on farms and orchards because they were great natural pest controllers and even dealt with rabbits.
Ms McLeod said she was finding the imminent destruction of the cats hard to handle because since feeding them she had come to know them. "They have huge characters. Unfortunately, we will have to euthanise quite a few. It will be devastating for me."
Ms McLeod has landed a new job on Wellington's Kapiti Coast and has been given a five-week extension to her farmhouse lease.
Ms McLeod and the Animal Rescue and Rehabilitation Centre were determined to humanely trap and put down the 40 feral and 10 semi-tame cats because the option was that they would be poisoned or shot. "That would not be respectful. It would be heartless."
Anyone who can take a cat or two can ring or text her on 020 4020 3448.