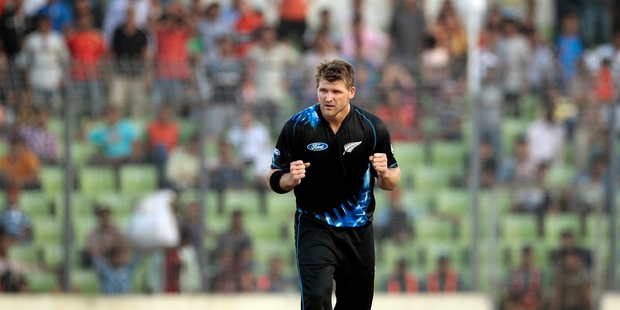 Corey Anderson is still coming to terms with the international media attention following his remarkable world-record innings on Wednesday against the West Indies.
His rollicking ton off 36 balls beat the 18-year-old milestone set by Pakistan's Shahid Afridi and made the cricketing world collectively say "Corey who?" in astonishment.
The well-grounded 23-year-old, who has called Tauranga home for the last 18 months since moving north from Canterbury, was still coming to terms with his achievement and all the attention he was getting when the Bay of Plenty Times caught up with him in Nelson for the next ODI against the West Indies.
"No I haven't had a chance to come to terms with what happened and it hasn't even sunk in yet," Anderson said. "But it has been quite exciting and I don't know when it will sink in."
Anderson did not know he had broken Afridi's record until the announcement was made at the ground - after he hit yet another booming six to bring up his brilliant ton.
"I thought maybe I was closing in on the New Zealand record so to hear that was pretty cool. I was more excited about getting my first one day 100.
"I cannot think of too many days when I have hit it better than this innings - it was a very crazy day."
Speculation he may have earmarked himself for a massive payday come the IPL auction in India this year has reached Anderson but he was reluctant to go down that path.
Something about keeping his feet on the ground is one of his endearing qualities.
"What happened will stir a few things up but it is something that is almost out of your hands really as you don't have any say in it at all. I haven't heard much at all and have just been focusing on the series back here and obviously India comes here, plus the Twenty20 World Cup, so there is a lot going on.
"That [IPL] thing has not really got into my head.
"It is good to get runs to know you belong at that level but it is still pretty cut-throat and you have to keep your form and not rest on your laurels.
"One score does not make a summer but if I can keep chipping in with good scores then hopefully I can have a long career with New Zealand."
The move to Tauranga has played a major part in Anderson's development from a promising first class player to a true international performer with test match and one day international centuries to his name.
He moved in to live with Trent Boult and his family, who he now refers to as his second family.
"It has been massive for me. It is a place I love going back to when we have time off and I am happy to call it home now. It has done wonders for me and I am happy with where I play with Cadets Cricket Club and playing for the Bay.
"It has been the best thing I have ever done moving to the Bay. It has taken me to a new level."