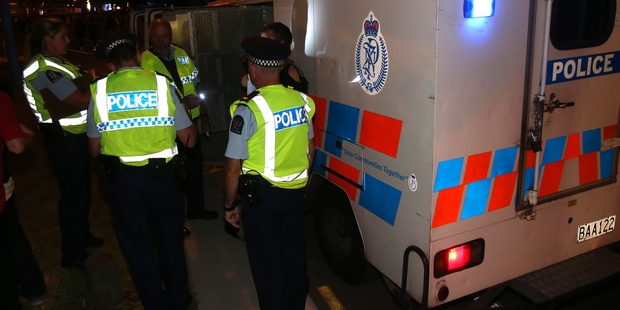 Drunk underage teens accounted for more than 20 per cent of arrests on New Year's Eve sparking a call from police for parents to supervise their children.
Western Bay of Plenty police Area Commander Inspector Clifford Paxton said 11 of the 52 people arrested up to 5am yesterday were juveniles under 17 years old.
"Comparatively, the numbers of juveniles that were offenders increased on previous years and a number of them had been drinking," he said.
"There's a message there to parents and supervisors make sure that your teenagers and youth are supervised and that they haven't been drinking. If they have and they haven't been supervised, they are vulnerable in terms of their own safety."
New alcohol legislation that came into effect last week resulted in a number people being issued with on-the-spot fines.
Tauranga Hospital emergency department clinical leader Dr Derek Sage noticed a similar trend: "A striking feature of the night was the proportion of younger people treated for intoxication, the vast majority were 18 years or younger."
The pattern of presentations was familiar, he said. "Before midnight it was mostly intoxicated teenagers, those who had simply consumed too much alcohol, and then by the early hours of the morning we began getting people presenting with alcohol-related injuries, those who had suffered falls, minor assaults and the like.
"I would say that of everyone we had through ED's doors overnight, around 85 per cent were alcohol-related, be that intoxication or injuries related to alcohol."
Mr Paxton said despite having more teens through the cells, there were 22 fewer arrests than on the previous New Year's Eve.
The charges were for disorderly behaviour, wilful damage, breach of liquor ban areas, fighting, obstruction and assault on police.
"On the whole, we were reasonably happy with how it went," he said. "There were fewer serious incidents and serious assaults than last year and in previous years."
Police would also be speaking with the organisers of the Mount Vibes festival at Baypark after teenagers put themselves at risk.
"A number of those that attended the Mount Vibes had chosen to exit early. Unfortunately as a result of that, some were seen on the highways," Mr Paxton said. "If there were people on the road that's a concern to us."
A number of factors would need to be reviewed and discussed with organisers if they wished to hold a similar event again, he said.
Mount Vibes organiser Morgan Dynes said concert-goers were well behaved.
About 6000 tickets had been on sale and Mr Dynes said it was almost a sell-out.
Tauranga City Council communications manager Frank Begley said staff were pleased with the free event at Mount Maunganui Main Beach.
The crowds took longer to build up than last year but by midnight it seemed as busy as the previous year, which attracted a record crowd of about 50,000, he said.
"It was a really perfect number for the space and event."
Silver Birch Holiday Park owner Allan Sherson said there was no trouble at the campsite, which has been criticised for allowing more than 210 under-25s to set up tents in what has been nicknamed "Alcohol Alley".
The campsite took five busloads of people to the Mount to welcome in the New Year.