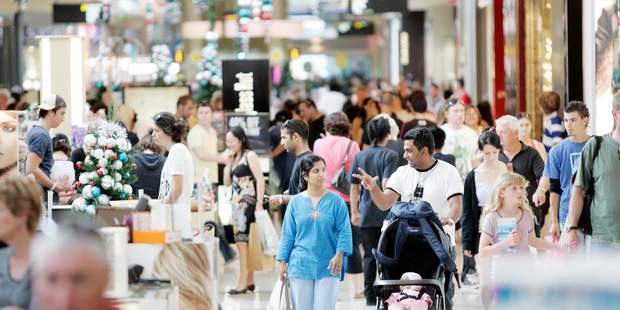 Western Bay shoppers are joining in the last minute Christmas rush, with spending up significantly for December.
Bay of Plenty shoppers spent more than $225 million in the first three weeks of December, up 6.6 per cent on the same period last year, new Paymark figures show.
The company, which processes about three quarters of New Zealand's electronic transactions, said shoppers spent more than $3.5 billion on their eftpos cards nationwide, an increase of 6.9 per cent on last December.
Last Friday was the busiest day of the year so far, with $235.6 million through the tills, up 5.7 per cent on the same day in 2012.
Bayfair Shopping Centre manager Steve Ellingford said last weekend was busy and spending was "looking positive".
"When you're in the centre, people are carrying [shopping] bags. We've noticed over the last few years you have people in the centre in large numbers but you don't see the bags and the trolleys.
"The average spend looks like it'll be very strong, people are actually spending."
Bayfair closes at 6pm today, but Farmers, Kmart and the supermarkets will have extended hours.
Paymark head of sales and marketing Paul Whiston said the usual pre-Christmas jump continued last week, with Kiwis spending more than $1.3 billion between December 15 and 21.
"This is a strong performance and growth so far for December is still ahead of the year-to-date average.
"The growth rates this December have been higher than we've experienced in a number of years."
However, the annual growth rate has slowed as the month progressed, from 8.6 per cent in the first week of December to a 6.9 per cent average over the month-to-date.
That could either indicate better planning, or shoppers relying on the last two days before Christmas to get everything done, he said.
Alternatively, shoppers might have bought their big ticket items at the start of the month, and left the stocking fillers until the last week, he said.
"It's been a really busy sustained period, so there hasn't been a frenzy."
Growth was sustained across a number of sectors including accommodation (11.9 per cent), restaurants, bars and cafes (10.4 per cent), takeaways (10.4 per cent) and hardware/building supplies (10.1 per cent).
Palmerston North (9.0 per cent) leads spending growth in the regions over the first three weeks of December, followed closely by Marlborough (8.7 per cent) and Canterbury (7.6 per cent).
Smaller regional centres such as Wanganui (2.3 per cent) and the West Coast (0.1 per cent) were still "having a tough time", he said.
New Zealand Retailers Association chief executive John Albertson said the results were encouraging.
Anecdotal feedback from retailers suggested shoppers were feeling more positive, which meant they spent more, he said.
Popular items under the Christmas tree this year include new shoes, a new pet, jewellery, electronic gadgetry and something for around the home, Paymark said.