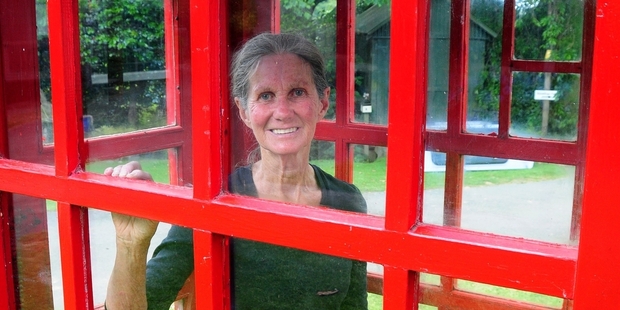 With almost 10,000 views on Trade Me, a vintage red telephone box from Te Puke is catching the attention of thousands around the country.
Gayle Blaymires picked up the collector's item in 1967 from the local Post and Telegraph shop on Spring St, Tauranga.
The 73-year-old said it was love at first sight, "at the yard they had lots of wrecked boxes but ours was in mint condition.
"It would have have gone to the dump as well.
"My husband didn't think they would have one, but they did and we got it for free.
"We had a log-wood house with an internal courtyard and I thought it would be rather nice to have a telephone in a telephone box there.
"When we wanted to use the telephone, you just went into the telephone booth and closed the door, which was handy as we had six children so you could just close the door on them."
"One of our sons, Ian, was keen into taxidermy, when he was 9 years old he stuffed a possum and, for years, it sat on top of the telephone booth."
We got known as the people with the telephone booth and we had it in our house for 20 years, she said.
However since a move in 1987 the item has been stored in a dry shed. Now almost 50 years on and another move in the air, its time to sell the "family treasure".
"We've had it 46 years and it was old then but sometimes these things just have to go," she said.
Listed on Trade Me as a vintage red telephone box, the item includes its original paint job with no major damage, rot or borer.
The telephone box does not include a phone.
The auction has been viewed more than 9000 times and is currently fetching more than $2500.
Mrs Blaymires says she thinks the attention it has received is "a bit silly" and is surprised by the price it is fetching.
It was put on Trade Me with a $1 reserve auction.
Nevertheless, she still hopes the item will go to someone who will love it as much as they have.
"It has been in the shed for the last 27 years and if we had brought it up earlier I don't think I would have put it on Trade Me,"she said.
"They do look beautiful, I just love it."
The auction for the red telephone box closes at 9pm this Friday.