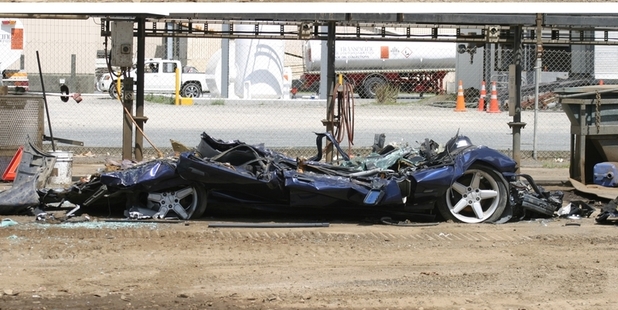 Boy racer Braedyn Clothier's BMW getting crushed at Metalco Recyclers yesterday.Photo/Fraser Blakeway
It took only three minutes for a 45-tonne excavator to crush Tauranga boy racer Braedyn Clothier's 1995 BMW.
But Clothier, 20, who is the first person in the Bay of Plenty region to have his car crushed under the tough new boy racer legislation, wasn't there to see it. It is the third car crushing in the country.
In attendance for the crushing ceremony at Metalco Recyclers site in Totara St yesterday, was Bay of Plenty district prosecution manager Senior Sergeant Stuart Nightingale and senior police prosecutor David Pawson.
Last month Mr Pawson successfully argued at a defended hearing that Judge Thomas Ingram should order destruction of Clothier's BMW despite his claim he had sold it.
The destruction order was made after Clothier was convicted of his third offence for operating a motor vehicle causing sustained loss of traction after being seen doing doughnuts in Cambridge Rd on July 17.
Clothier gave evidence at the hearing that he had sold the vehicle to a man for $400 parts, despite being given a prohibition notice forbidding him to sell or dispose of the car.
Judge Ingram also sentenced Clothier to 125 hours community work and disqualified him for a further six months from January when his present disqualification ends.
Mr Nightingale said it was satisfying for police to see this vehicle permanently off the roads.
"It shows the legislation has some teeth, and sends a clear message to all drivers about the need to act responsibly and to obey the road rules. It's difficult to re-offend when your car's been crushed. This sends a warning message to other potential offenders what will happen if they offend in a similar way," he said. Mr Pawson agreed.
Crushing Clothier's BMW sends clear messages: "don't hoon" and "don't try to mislead the court", he said.
Mr Pawson said it was concerning the increasing number of drivers who are trying to avoid confiscation by filing affidavit declarations about prior disposal of their vehicles.
Mr Nightingale said recently there had been a significant increase in the number of vehicles being confiscated or forfeited, and police would continue to look closely at all non-confiscation applications.
Also in attendance at the crushing ceremony was Tauranga District Court manager Jason Stringer and three Tauranga criminal registrars.
"It certainly sends a message, doesn't it?" said Mr Springer.
One of the registrar's watching the BMW being flattened said: "It was very cool. It definitely sends everybody a clear warning message," she said.
Clothier did not attend the crushing ceremony but last month he told the Bay of Plenty Times that he did not feel it was fair but he had learnt his lesson.
Metalco Recyclers owner Kirk Edwards said his business crushes about 20 vehicles a day.
"It's not like he [Clothier] hadn't been warned. How many strikes or times does it take to get the message?" he said.