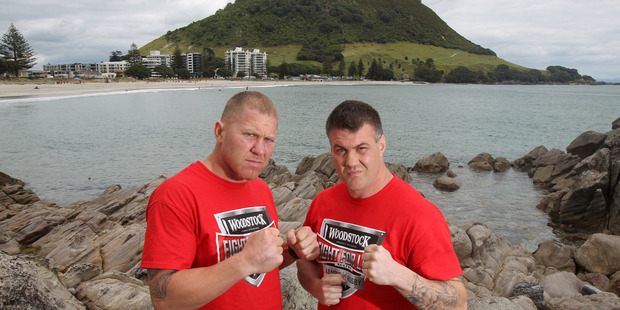 The myriad possibilities of the fight game were on show at Moturiki Island yesterday as Shane Cameron and Brian Minto posed for photos ahead of their heavyweight contest at Waitakere's Trusts Arena on Saturday night.
On one side of the narrow stretch of rocks stood Shane "The Mountain Warrior" Cameron with his minder. On the other side was Brian Minto with his late replacement trainer, Kevin Barry.
Cameron spoke of taking Minto out on his quest to secure a world title shot as a heavyweight, while Minto raised the spectre of further fights in New Zealand if the two heavy-hitters put on a good show.
In the background stood Barry; beautifully positioned regardless of the outcome, with a thoroughbred named Joseph Parker waiting in the wings.
Speculation about Barry's involvement with Minto has reached conspiratorial proportions.
If you believe what you read, Barry is either working with Minto in order to gain a greater insight into Cameron for a future fight with Parker, or helping the American beat Cameron so the aging Kiwi has no option but to agree to a fight with his upcoming young charge.
Cameron, though, was not buying all the cloak and dagger stuff.
"I've got to win otherwise the Parker fight will not eventuate," Cameron said.
"But I'm not too worried about the Parker fight to be honest. My goal in boxing is to get another shot at a world title as a heavyweight and fighting someone like Brian Minto will get me closer to that than beating someone like Parker.
"Minto has been around a long time, he's a seasoned campaigner and is a well-respected heavyweight in the world boxing community."
Cameron is under no illusions as to what a loss could do to his aspirations in the heavyweight ranks and offered his fights with David Tua and Monte Barrett as proof.
"Monte hasn't fought since he lost to me. This is a brutal sport that we are in. One punch can change the whole fight. I've had it done to me and I've done it to other people."
He believed Duco Events was good for the sport in New Zealand. "They're doing a good job for young guys coming through and that's what the sport is lacking.
"If you have the goods they will support you. For me it's just fight by fight, and I'm just concentrating on taking care of Brian."
Minto said he was comfortable the work he had done with Barry.
"I really didn't even know Kevin, I'd just heard about him with Tua and my agent said he had a guy - the perfect guy," Minto said.
"In three weeks he isn't going to change me, but he did show me a few things that I think will pay dividends on Saturday.
"I look at it like this. Cameron and I are about the same size - he is a little taller and longer - but I'm used to giving up 30 or 40 pounds.
"This is going to be fun for me ... Styles make fights and our styles are very similar. Whatever the outcome is, maybe if it's good we can do it again."