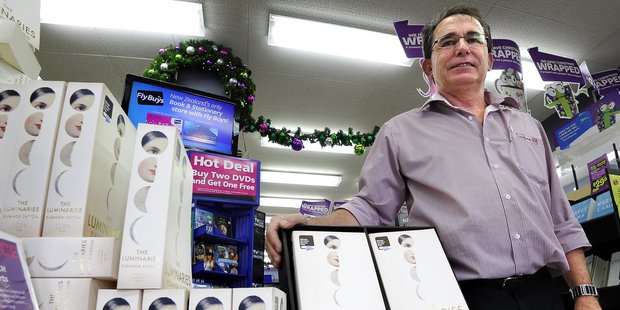 Shoppers splurged $67.9 million in the first seven days of December as Christmas spending ramped up in the Western Bay.
The number of electronic card transactions in the Bay of Plenty increased 7.2 per cent in November to 5.44 million compared to November 2012, according to latest Paymark figures.
The value of spending also jumped last month, up 6.4 per cent to $274.1 million.
Meanwhile, the region's shoppers splurged $67.9 million to December 7, up 7.8 per cent year-on-year, as they sought out Christmas bargains.
Paper Plus Tauranga owner Toby Tagg said sales started to pick up about three weeks ago, and had jumped by 12 per cent in the first week of December.
"It's probably one of the few times I've been smiling this year," Mr Tagg said.
While shoppers were positive, the increased spending was driven by products being reduced to bargain prices.
Popular items were chef Annabel Langbein's A Free Range Life, and Eleanor Catton's Man Booker prize-winner The Luminaries. For children, the latest instalment of The Diary of a Wimpy Kid - Hard Luck, was the top seller.
Spending predictions for the rest of December remained a puzzle, he said.
"Last year things were very, very late and yet this year ... it looks like it's coming a bit earlier. But we've still got two weeks to go so we're still holding our breath and if it keeps going we'll have a very good year," Mr Tagg said.
Life Pharmacy Tauranga owner Garth Mitchinson said there had been a noticeable "upswing" in people buying since mid-November.
"I think the CBD has a unique mix of shopping at the moment, getting a lot of people to shop here. We're getting a lot of people coming in and liking the product mix and grabbing it while they can," Mr Mitchinson said. "Suppliers have been bringing in less stock this year than previous years so there's a little bit of urgency which could be a reason for it, or maybe people are sick of not being able to spend."
Tres Chic owner Melanie MacDougall said business had been booming. On Sunday and yesterday, she had collected about 50 entries for Downtown Tauranga's Shop Where Santa Shops Competition, and had collected many more on Saturday.
"Saturday was huge ... Being a gift shop, I've been selling a lot of Christmas gifts, there's been a bit of everything. I'm really happy," Ms MacDougall said.
Nationally, spending increased 8.6 per cent for the week, as people stocked up on food and liquor.
Paymark head of customer relations Mark Spicer said the increase in spending showed that momentum was building towards the final Christmas countdown. Additional reporting by Sonya Bateson