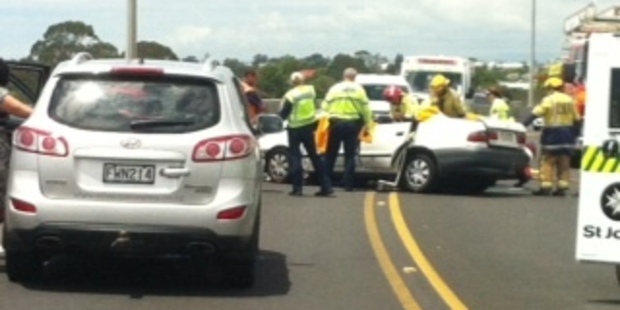 Firefighters were forced to cut the roof and one side off a vehicle to free a man trapped inside after a collision on the Hewletts Rd Flyover in Mount Maunganui today.
The section of State Highway 2 was closed for about an hour after a two car accident at 12.30pm, with the driver and the passengers of the other vehicle, an older couple, all taken to Tauranga Hospital.
Firefighters from Mount Maunganui and Tauranga worked for 25 minutes to free the trapped man, Senior Station Officer Len Sabin told the Bay of Plenty Times.
"We arrived on the scene to find the occupants of the red car lightly trapped and with minor injuries," he said.
"We let the ambulance officers take over their care while we worked on getting the driver of the other vehicle free.
"His dashboard had compacted in, trapping his legs, so we had to cut off the roof and the whole right hand side of the vehicle to get him out.
"No airbags were deployed in his vehicle, unlike the other car, basically his vehicle just acted like a concertina, collapsing in on him and we had to open it right back up again using hydraulic cutting gear."
Police say it is too early to say what the cause of the accident was but witnesses said it appeared that one of the vehicles crossed over the centre line into oncoming traffic.
Senior constable Chris Hills said speed did not appear to be a factor in the crash but investigations would be ongoing.
"We are still collating witness accounts," he said.
"But at this stage speed and alcohol do not seem to be factors."
A woman who was travelling behind one of the cars before the accident said one of the cars had travelled over the centre line.
"It was pretty scary," she said.
"It all happened in slow motion though, you could see it happening but you could not do anything about it apart from slam your feet on the brakes and hope for the best.
"It was lucky nobody was killed really."