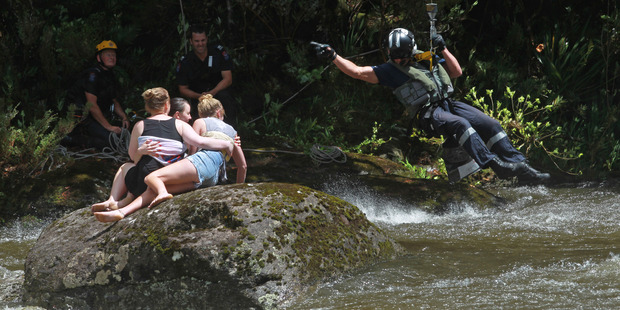 One of three girls marooned on a rock surrounded by rapidly rising water in the Kaimai Ranges had just enough power on her phone to call for emergency services before it went flat.
The girls, aged in their mid to late teens, became trapped about 400m upstream from the main McLaren Falls swimming hole about 1.15pm yesterday. The incident sparked a callout by the TrustPower TECT Rescue Helicopter in the first rescue of its kind at the popular visitor attraction.
The girls, two from Auckland and one from Hamilton, were not hurt.
St John advanced paramedic Bill McNeilly said the girls had been rock-hopping along Mangakarengorengo River towards the bridge when the rocks they had been using became submerged.
"They had no idea they were going to have all this water come through," Mr McNeilly said. "The rocks started to disappear. The young girl had a cellphone with her but only 2 per cent battery, so she made an emergency call.
"They were a little scared obviously, but in good spirits."
Mr McNeilly was lowered from the rescue helicopter using the Port of Tauranga rescue winch to pick up each girl.
He said the distance between the rock and river bank was about 5 metres and the water was flowing too fast to rescue the girls by other means. It is understood one of the girls tried swimming but was nearly swept away.
Tauranga senior station officer Kevin Cowper said it was the first rescue of its kind at McLaren Falls they had been involved in.
The rescue helicopter was lowered to about 15m above the girls, among large trees.
"That's pretty amazing flying skills," said Alice Campbell who joined a dozen others watching from the bridge.
"The river is not usually like this, but we have had a lot of rain. Normally people swim around this area [by the bridge], not up there."
Local Avi Finucane said he regularly swam in the area but not where the girls were rescued. "I'd say they are tourists because everyone around here would know not to swim up there," Mr Finucane said.
Fire crews from Greerton and Tauranga stations navigated the narrow, rocky banks to reach the girls and talk them through the rescue.
Firefighters with life jackets and rope were positioned down stream as "catchers", as a safety measure.
Tauranga police Senior Sergeant Carl Purcell said after about two minutes of climbing on to the rock, the water level had risen to a point where it became unsafe for the girls to wade back to shore.