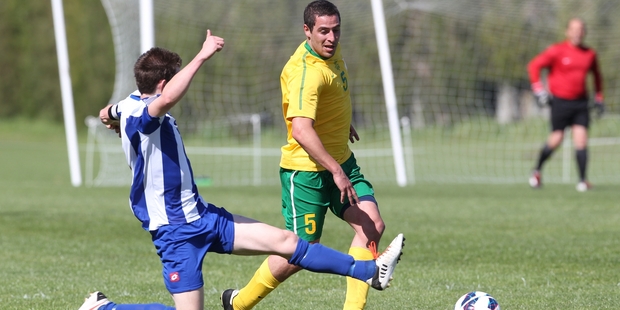 AFC Fury founder David Cook is not waiting around for the Auckland Football Federation to make its decision on whether the club will be promoted into the Northern Regional Football League Division Two.
When contacted by the Bay of Plenty Times, Cook was bullish about the club's progress despite the protest lodged by Papakura City FC over the alleged use of ineligible players.
What followed was an extraordinarily wide-ranging attack on traditional football practices and standards in New Zealand, criticism of both the rules and governing bodies and a discussion of natural justice and human rights.
"What our thoughts are is the traditional way clubs operate is detrimental to the game," began Cook.
"If you look at any overseas football country the most break they will have is two months, and most people don't even like that.
"A few of my players who have gone overseas are already playing. They don't like to have four to five months off.
"The reason I'm involved in the game is not really down to the Fury. I want to lift the standards of football in general by creating a more professional environment by using income streams from outside the game."
Cook was vague when discussing the exact nature of those income streams, but claimed the club had $200,000 in assets and went on to expand on a business deal that had tripped up his efforts with the Mount Maunganui club in the past.
"It's probably commercially sensitive at the moment, but we have, in general terms, accumulated some assets that could be put to work to create revenue streams.
"We are holding an event up in the summer which would involve concerts and also markets and things like that.
"What I did way back in the Mount Maunganui days was start up a business called Wembley Homes. What happened, as was the case with a number of businesses of that ilk at that time, was we ran into the Government changing the rules on a particular funding scheme for young couples.
"What I learned from that is you must have diversification just as you would on the share market."
Weather was to blame for another failure.
"Many, many years ago I promoted concerts at the Mount Maunganui Soundshell, and they went very well but we lost money and the mortgage ended up against my house. I learned from that.
"What happened was we invested in fencing off the Soundshell and needed all four concerts to go well, Hello Sailor, Peking Man, DD Smash, and so on. Unfortunately, on the last one it rained. What then happened was I spent the rest of the day negotiating with roadies to put it on the next night.
"We agreed, ran round and promoted it and it rained again."
If successful, Cook believed the business ventures would allow for drastic improvement in football thanks to earlier talent identification and players who were physically and mentally fit.
"There's also people around this time of year that aren't necessarily going to be around next year.
"But if we find they're good players we can easily get them to stick around and help them with finding jobs."
Cook said the generic football model of relying on sponsorship, grants and fundraising was unsustainable.
"What we're trying to do at the Fury is not just run an ordinary club that does the same old thing it's always done. I wouldn't be involved if that's the case."
He was also scathing of both the Auckland Football Federation and what he described as antiquated regulations that are effectively unenforceable.
"I've just emailed Auckland Football to tell the CEO that he should talk to New Zealand Football, because what they are doing is checking overseas to see if the players played affiliated football or not.
"We quiz the players very carefully - they have not played affiliated football.
"In any case it's irrelevant. Clubs, including the Fury, have not had the ability to check the honesty of players. There is no mechanism in place for that. We have to have a club name to go to. We have to have $168. If there is no club then you can't ask can you?
"One party can not have privileged process that the other party cannot have. That's natural justice. You can't go into court as an alleged murderer and not have the same processes available to you as the prosecution has.
"Also, we're talking about the future and not the past. Because if you're doing that it must be for the future because none of us have had the means to check.
"So it has no bearing whatsoever. They should be getting on with their decision. There is only one decision. These guys have written declarations and passport copies saying they have not played affiliated football. Under those terms they do not meet the profile of a guest player."
He said the rule itself was outdated
"The guest player rule was brought in in 1983. It was designed to restrict the flow of top professional players who were coming to New Zealand to guest for a while.
"Players of English Premier League standard used to come here and play in the national league. The thinking then was some clubs had the money and some didn't, so they limited the number to three.
"But you're never going to get an English Premier League player out here now. Not even Paul Ifill would play in our domestic competition and he is nowhere near the standard of these guys."
He also alleged there are inconsistencies between nations on what standard equates to affiliated football.
"In England it's affiliated from top to bottom apart from Sunday pub football, but it's not in other countries. Affiliated football does not come in until you are professional.
"You can have a player that is just as good as [AFC Fury player] Lee Garnham ... they are termed a guest player and don't even come from that great of a standard and aren't any better than some South Americans that have never played affiliated football and are not considered guest players. It's a dopey mess."
Cook said the club begins preseason next week.
Auckland Football Federation communications and administration manager Steven Upfold said the governing body would not be making comment at this time.
"We're still working through the process of the protest. We'll be issuing a statement once that's completed."