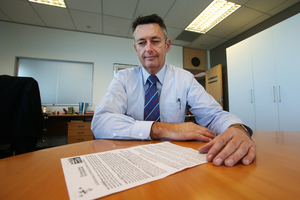 Tauranga Mayor Stuart Crosby has defended the council's decision to place restrictions on how the public and councillors can raise issues at meetings, saying the changes will enhance communication with the community.
Council on Tuesday voted to dump the open forum section of meetings, which had previously allowed elected members the right to raise matters not listed on the agenda.
People wanting to speak at a council meeting will now have to give five days' notice after the changes to standing orders, which also includes giving the meeting chair the power to decline requests from the public to speak.
Previously no notice period was needed and members of the public could turn up and address council.
Some ratepayers have blasted the changes, calling council insular and lambasting them for "creating barriers" but Mr Crosby believes the opposite is true.
He told the Bay of Plenty Times the changes would create clearer and more effective communication channels between council and the public and were part of council's strategy to become "sharper".
Mr Crosby said members of the public would still have the opportunity to speak at a council meeting, but excepting extreme circumstances, would have to give five working days' notice.
"There has been some confusion within the community that we are getting rid of the public forums, which is simply not true," Mr Crosby said.
"We will still have half an hour set aside during every meeting for members of the public to speak, however we are now asking that they give five working days' written notice.
"It is a courtesy thing, but obviously if something urgent crops up, the chair of that meeting has the power to be flexible and allow a person to speak about urgent matters at short notice."
Mr Crosby said the five-day time period would also allow people wanting to speak to council to get all the information they needed. "Often when people come in at short notice they are angry because they have the wrong information." he said.
"Having a notice period allows us and them to prepare, to get more information so we can have an informed discussion based on fact.
"This will also allow the item to be put on the agenda, which allows other interested parties to attend the meeting. If there is no notice of discussion then it is not really fair."
Mr Crosby said the decision to dump the open forum which allowed councillors to discuss items not on the agenda would make council more efficient.
"A lot of time has been wasted in the past by councillors using the time to raise small, pedantic operational items to the table," he said.
"These items can usually be solved by a quick email to council staff instead of wasting time during a meeting.
"It is also a matter of public record.
"If people don't know what will be raised it is just not really fair. It is important that we are open and transparent and that elected members do not use the time to ask questions out of the blue and ambush staff and other councillors at the last moment."
Mr Crosby said the new council was focused on being more effective and focusing on the bigger issues. "We are focusing on becoming sharper and more efficient. These changes are about that, not building barriers."