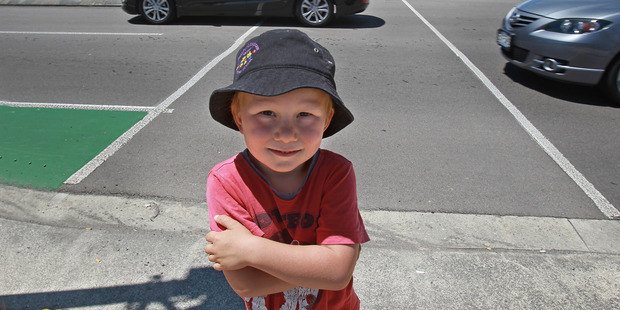 A gate Pa mother is demanding answers after her 3-year-old son managed to escape from his kindergarten unnoticed by staff and walk across busy Cameron Rd alone.
Alfie Jones decided he wanted shoes from home on Friday afternoon so, while the other children at Tauranga South Free Kindergarten were napping, he dragged a chair over to the front door and opened it.
The high-needs toddler then opened the gate and headed along 22nd Ave to Cameron Rd.
There he waited for the "green man" to appear at the controlled pedestrian crossing before crossing the road and continuing his walk home on 23rd Ave, about 500m away from the kindergarten.
Mother Vicki Jones was in her lounge when she heard a rattle at the front gate at about 2.15pm.
"Hello mum, I'm home," he said to her.
Ms Jones, who describes her son as a "a handful", said she assumed he had been expelled and brought home.
Then she realised he had escaped and walked home on his own.
"I was furious," she told the Bay of Plenty Times.
She then went to the kindergarten to confront staff about the incident. By this time, teachers were looking for him.
She was surprised to find the route her son had taken was in clear view of the kindergarten.
"How long had he been missing for before they realised he was gone?"
The adventurous 3-year-old had also safely navigated a high school carpark, bus bay and supermarket traffic.
Ms Jones pulled her son out of the kindergarten and laid a complaint with the Tauranga Region Kindergarten Association.
The association and Ministry of Education are each investigating the incident.
"I can't trust them with him. I mean, would you?" she said.
Alfie is diagnosed with attention deficit hyperactivity disorder, oppositional defiance disorder and has Asperger Syndrome. "That's the hard thing. You say autism to someone and they think of someone slow but they're actually not.
"They are very clever. He (Alfie) is very clever, very cunning. He would have been planning that escape for weeks."
Ms Jones said kindergarten staff were aware of her son's behavioural issues and she was concerned that he was left unsupervised long enough to escape.
"Anything could have happened ... You drop your kid off at daycare and you trust that they will be fine."
Tauranga Region Kindergarten Association principal Peter Monteith confirmed the organisation was dealing with a complaint.
"We have put in place immediate steps to ensure that a repetition of Friday's event doesn't happen again," Mr Monteith said. "We sympathise with the parent's concerns and are conducting a full investigation into the matter.
"Anything that the investigation finds is required to be done will be done."
Mr Monteith said child safety was a paramount concern and although the association strived for perfection, sometimes unfortunate things happened.
Ministry deputy secretary for early years, parents and whanau Rawiri Brell said there were measures in place requiring centres to provide a safe space, enclosed by secure fences and gates. In cases where children had special needs, additional steps might need to be taken, Mr Brell said.