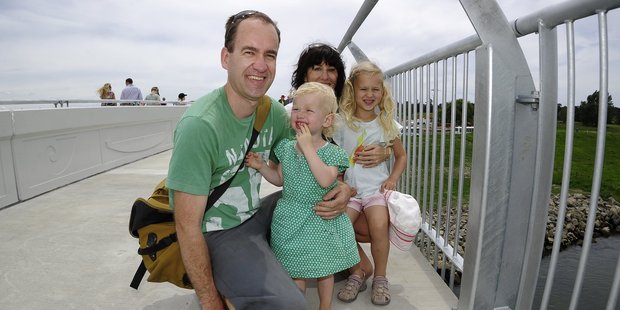 Thousands of people got their first chance to view the new Kaituna River Bridge and other progress on the Tauranga Eastern Link.
A family open day was held at the bridge yesterday from 10am to 2pm and free buses took groups of people along the construction site before finishing up at the bridge.
Buses drove down the partially completed road, and site workers were happy to answer questions from passengers during a guided tour of the site.
While final numbers are not yet known, NZ Transport Agency senior project manager Wayne Troughton estimated between 3000 and 4000 people had taken the trip to view the bridge.
"The day has gone really well," he said. "We have been able to open up the first 5.5km of alignment so people could come down in the buses, which was a nice surprise for them."
Many of the visitors consisted of families with young children, who enjoyed playing on the bouncy castle, taking turns climbing on machinery, and having their pictures taken posing with cardboard cutouts of diggers and trucks.
There were also food stalls, helicopter flights and rides on a Coastguard vessel.
"It's been a really nice atmosphere," Mr Troughton said. "People have really enjoyed it and we're pleased they could come out and feel, touch and kick the bridge to get a real appreciation for what we are doing here. The feedback has been positive."
Visiting the site were Oropi's Scott and Tracey Dumbleton with their children Gia, 5, and Evie, 2.
"We just came down to enjoy the day and see the progress of what's going on," Mr Dumbleton said. "It's a nice family day out. I work in the area so it's good to see how it's going."
Mr Dumbleton said the site was "looking great".