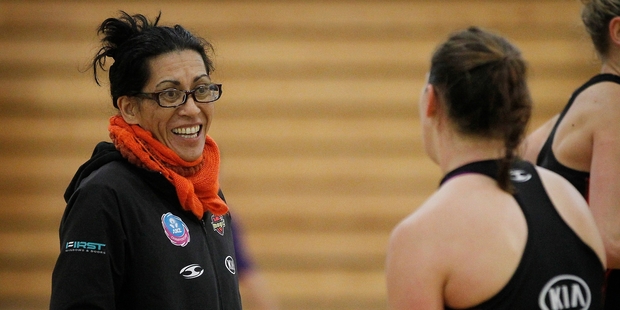 She led the Waikato-Bay of Plenty Magic to a championship and has been the assistant coach for the Silver Ferns, now Noeline Taurua will head the new netball training programme being offered by the New Zealand Sports Academy.
The Rotorua-based academy, known for its rugby and rugby league training programmes, has decided to expand to include the country's No 1 female sport.
"This is something we had always planned to do but wanted to get things right before widening out," said academy founder and co-director Jim Love.
"We're not only wanting to do it here but in Wellington and Christchurch in 2015."
The 40-week programme will take a similar approach to the league and rugby courses already offered, with young women to train and study the Sports Leadership Level 4 paper through Te Wananga o Aotearoa.
Love said there were places available for 12-15 women who must be at least 18 years old or have achieved NCEA Level 3.
"This programme is for girls who may just be playing under the radar but are wanting to have a crack at the next level. We will help them with their strength and conditioning right from the start, as it will also help their agility, movement and make the girls stronger," he said.
Adelaide Crows AFL physical performance manager Nick Poulos will be assisting with the strength and conditioning, as he had for the rugby and league programmes.
Taurua said she was excited to be the director of the inaugural course.
"It's an exciting opportunity for a woman who sees netball as a career.
"It's fortunate to be the No1 female sport in New Zealand and it has a strong reputation, especially with the advent of of the ANZ championship, " she said.
"I think there is so much talent around and this programme can assist in helping these girls get connected to the right people and opportunities."
Taurua ended her 11-year tenure in coaching roles of the Magic this year and was assistant coach to the Silver Ferns during the England and Australia series last month.
Her new role is part-time as she juggles other netball commitments while studying for her two-year online Masters of Science and Performance Coaching through Scotland's University of Stirling.
Enrolments are being accepted for the netball programme which will start on February 24, 2014. Application forms and information are available by emailing info@nzsportsacademy.co.nz or they will soon be uploaded to www.nzsportsacademy.co.nz APN News & Media