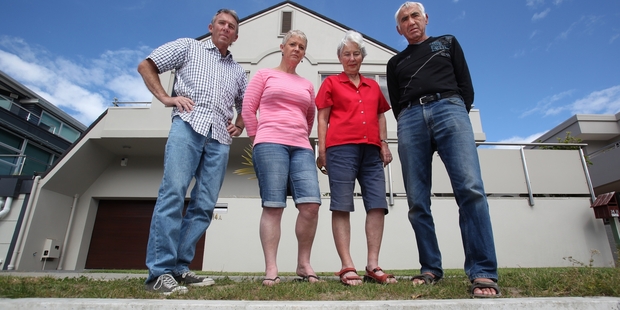 A newly-elected Tauranga City councillor says the city should look at fast-tracking a $43.5 million promise to flood-proof homes inundated with raw sewage even if it means considering a rates rise, taking on extra debt or a flood levy.
The previous council reshuffled its stormwater spending this year, promising to spend money to fix the problem over five years, after devastating floods left raw sewage inside homes in Matua and Mount Maunganui.
The plan led to a two per cent rates increase, with works starting this year and rolling through until 2017.
It it a slow process for residents in Commons Ave and Grace Ave, who say they are "terrified" their homes will flood every time there is heavy rain.
Commons Ave Neighbourhood Support group leader Tony Haslett said the previous council had come up with a good plan to fix the issue but the work needed to be finished urgently.
"They (council) need to keep the dollars there and keep their foot on the accelerator, not grasp hold of the handbrake," Mr Haslett said. "This work needs to get done. It's tough down here, every time it rains people are terrified their homes will be flooded. It is debilitating."
Councillors Steve Morris and Clayton Mitchell recently met with residents affected by the flooding.
Cr Morris described the situation as "heartbreaking" but said there was "no cash in the bank" to fund the $43.5 million promise made by the previous council.
"We can find the money but the simple truth is it is not there at the moment," he told the Bay of Plenty Times.
"And this is urgent work that must be done.
"We are talking about mainly older residents who live in fear of flooding every time there is a heavy rainfall.
"They are not able to move their couches and beds out of the way like they once could and I feel for them.
"That is a lot of stress for older people and, for me, getting their homes safe has to be the number one priority."
Mayor Stuart Crosby said the new council had to make some extremely tough decisions in terms of the capital works programme.
"I am talking about the Southern pipeline, flood protection, roading and other projects," he said.
"This will all have to be discussed again and with fresh eyes, it is a big wake up call for some of the new councillors who will have to make some tough calls very shortly."
Cr Morris said council had some "tough decisions" to make over the coming months.
"The $40 million has not been funded, but the promise has been made," he said.
"The situation I find myself in is that you can't leave these people to put up with this.
"We will have to do something as soon as possible and there are only a few ways council can get the money it needs to get this work done as soon as possible - postponing some capital works, operational cuts, increasing the rates or the debt or a targeted levy to raise the money."
Cr Morris said council may have to look at delaying other projects, like the Southern Pipeline, to make the residential stormwater works priority.
"Every now and then the system gets overloaded and we end up with raw sewage in the Tauranga Harbour," he said.
"But at the same time there are residents getting that through their homes and I think we have to support residents first and look at doing whatever we can.
"You can imagine how stuck I feel after the message that was delivered at the election - increasing rates and city debt is not palatable but this is an extremely difficult situation.
"Residents can abide a lot but they cannot abide having raw sewage in their homes and I don't think anyone in this city could tolerate their neighbours having to put up with that sort of thing.
"Some will disagree but I challenge them to go and meet the people that are being affected, hear their stories and tell them the argument for not sorting this out immediately."