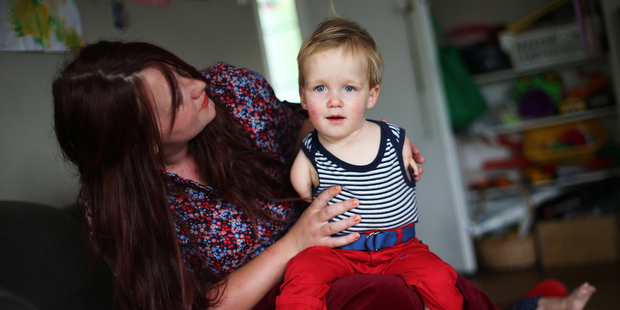 Having twins can be difficult at the best of times, but when both have severe disabilities life is never the same. Amy McGillivray talks to a young family dealing with their unique set of challenges.
A young father cradles his baby girl who has fallen asleep with her eyes wide open.
Apart from her unusual sleeping habit you could think 18-month-old Madeline Fowler-Oates was just a regular child but that could not be further from the truth.
Madeline's birth - and that of her twin brother Felix - turned her parents' lives upside down.
Madeline is blind and her body does not produce enough hormones to sustain itself without medical intervention. Her twin brother, Felix, was born without arms.
Parents Nikki Stokes, 24, and James Fowler-Oates, 27, who have two older children aged 6 and 4, say the first signs of a problem were revealed by a scan at 20 weeks into the pregnancy .
The good news was they were having twins. The bad news: one appeared to have no arms.
Every scan seemed to show new abnormalities and doctors were uncertain the baby would survive.
"The pregnancy was really hard not knowing whether to buy little baby boy clothes. It's the mental thing of, 'I'm having a baby with no arms' and then not knowing if he would live. It was rocky," Nikki says.
After the birth, Felix was diagnosed with upper limb phocomelia as he was missing the long bones in his arms and some fingers. He also had a severe curve in his spine, which requires intensive therapy and will eventually require medical intervention.
"When he was born he was very here and he's been very here since. He's loud and noisy. He had a lot of charisma from birth," Nikki says.
The family was just beginning to adjust to its new circumstances when the twins had to be flown to Starship Hospital in Auckland after they developed a severe respiratory illness at 3 weeks old.
Madeline's condition was discovered during the five-week stay after she became severely dehydrated despite being on a drip.
An endocrinologist diagnosed her with diabetes insipidus, a condition in which the kidneys do not concentrate urine so the body becomes void of water.
The diabetes was a symptom of a broader condition called septo-opti-dysplasia, which affects her pituitary gland. The gland produces a number of vital hormones. The condition also impairs the development of optic nerves and possibly other structures of the brain.
They were then told Madeline was blind.
For the first year of her life she was so ill she did not move she just slept and drank.
She is developmentally delayed and now has the spatial awareness of a 3-month-old.
"The nerves from her eyes to her brain didn't develop. The pituitary gland didn't develop. We don't know how much of the rest of her middle brain didn't develop," Nikki said.
Even simple tasks such as chewing and learning to talk are challenging for Madeline.
"It's really hard to teach a child about the world when everything we do is visual. We're getting her to explore her environment and learn that there is space out there. It's a really abstract concept if you can't see it," Nikki said.
Even now minor illnesses can become life-threatening and so the family is used to regular stays at the hospital with Madeline.
Felix is like any other 18-month-old except his movement is limited he has just started shuffling around on his bottom.
Prosthetic limbs and tools will be introduced as he gets older. "It'll start as soon as he realises he has his hands because he doesn't use them at all. He just uses his feet," James said.
Despite his unusual condition the couple expect he will be able to live a fairly normal life.
When the twins were born, and even during the pregnancy, everything changed for the family.
"I think the main thing that changes is that you have to let go of your expectations. Your expectations change when you have kids anyway. Raising kids when you don't know what's going to happen to them each week, you have to change your expectations not only for them but for yourselves," Nikki said.
"We've learnt a lot. It's getting easier we've adjusted to our new normal."
Doctors say it is, statistically, almost impossible to have twins with such serious but hugely different conditions and have not been able to give an explanation for it, Nikki said.
Another challenge arose at the end of last year. James injured his back and has not been able to work since so the family rely on benefits and cannot afford some basic necessities such as a car big enough to fit the whole family.
Despite the challenges, the proud parents love their kids the way they are.
"I wouldn't change it. You've just got to accept it," James said.
Nikki admits it took her longer to get to that point.
"I spent a lot of time grieving and getting my head around that fear the fear of, 'what if it gets worse'," she said.
"For them I would change it. The world's a scary place for raising a child anyway but raising a child with a disability ... I'm fearful for them."
James said their two older children Hunter, 6, and Rhys, 4, had handled the changes well and did what they could to help out.
"You couldn't ask for better kids than them in that area," he said.
The family gets by with the help of family, friends and medical professionals but are having difficulty with transport.
The family has an old car that James used for his painting business but it is "entirely toxic and rubbish" and not big enough to fit the family of six, he said.
"Even simple things like going to the park as a family we just can't go. Either Nikki or I just can't go," James said. "Or the beach or just going to the supermarket as a family we just can't go."
Nikki was often forced to take the bus, which was difficult with Madeline in tow, she said.
Christchurch-based organisation Smile Dial, which supports families who have children with an on-going medical condition or disability, is helping raise funds for a car.
Smile Dial founder Kelly Dugan has raised about $3000.
"The family is pretty cool," he said. "He [Felix] is just a legend, that boy."
Nikki said she was blown away by the generosity and willingness to help.
"It was really neat for them to say, 'Yes. We'll do what we can to help you', because there's not really anywhere else we can go."