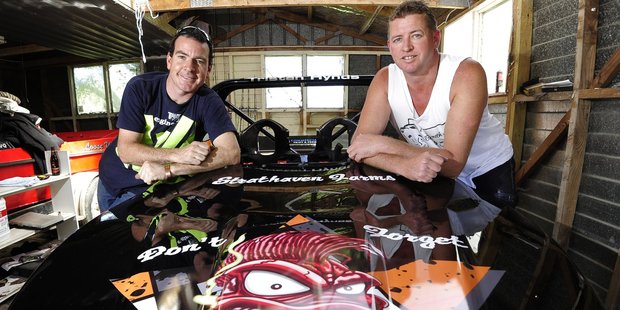 Plans for a world-first V8 jetsprint course to be built at Baypark have been revealed.
The course is to be built for the second round of the New Zealand championship which is to be staged at Baypark this summer. It is the first time the sport has been held in an enclosed stadium anywhere in the world.
The New Zealand Jetsprint Association has been given the green light to hold the event at the stadium on January 25, Auckland Anniversary weekend.
Jetsprint world champion Leighton Minnell said the event had been two years in the making. "It should be awesome. It was my little baby. It's been a hell of a lot of logistics and a lot of background work to make sure everything is alright," he said. "The sport's iconic and it will be kind of nice to do it for the first time in New Zealand."
The world's attention will be on the event and, all going according to plan, it will make Tauranga a major contender to host the World Series which will be in New Zealand during the summer of 2015/2016, Mr Minnell said.
"That's my big dream. That's what I'm hoping for. We're raising the bar not two notches. We're doing it 10 notches."
Being in a stadium means spectators will be able to see the whole course and all the thrills and spills. "They get up to 130km/h and can turn at 5Gs that's more than a fighter jet. It's all non-stop action packed," Mr Minnell said.
Organisers have a week to create the course, which will be made 5m wide and range from 40cm to 70cm deep, and a week to put it all back together.
Speedway racing was scheduled for the following weekend and rugby for the weekend after that, Mr Minnell said.
Te Puke farmer Tristan Hynds has just taken up the sport and is looking forward to racing in Baypark.
"Baypark will be our second event," he said. "It's going to be pretty exciting. There's not many motorsports that you can go to and see the whole track."
The narrow channels and sharp corners make it spectacular to watch, he said.
"The chance of a crash is pretty high. Hopefully it's not me."
ASB Baypark general manager Ervin McSweeney said the jetsprints were shaping up to be a highlight for the venue's summer calender.
"We're delighted to be able to partner with Jetsprint BOP and the New Zealand Jetsprint Association to offer something new and exciting to local residents as well as offering a real drawcard to people from around the country to spend the long weekend in the Bay."
Organisers hope to attract crowds of about 15,000 to the event which will see up to 50 teams from New Zealand and between six and 10 Australian teams competing in three classes.
TV3 sport, Sky sport and Freeview 24hr sports channel will have live coverage.