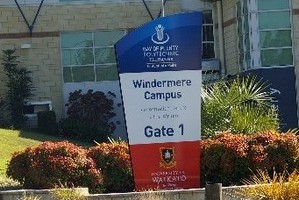 A former Bay of Plenty Polytechnic tutor who allegedly swore at a teenage student and threatened to throw him overboard during a fishing trip is to be paid $6500 for wrongful dismissal.
Kelly Pakaru was fired from his role as co-ordinator of the Youth Guarantee Programme on September 14, 2012, but a decision by the Employment Relations Authority (ERA) found his dismissal was unjustified although his conduct was partly to blame.
The authority deducted 60 per cent of the compensation awarded because of his conduct, bringing the total amount owed to him to about $6500.
The Youth Guarantee Programme was established to assist 16 and 17-year-old students who were not in education, employment or training.
The scheme aimed to improve the future education prospects of the students, many of whom came from troubled backgrounds, by encouraging positive relationships and a more practical alternative style of education.
Mr Pakaru's students expressed concern about his behaviour and the Bay of Plenty Polytechnic suspended him on pay on July 2, 2012, while an investigation was carried out.
It was alleged the tutor told a student to "f*** off" and "I'll throw you overboard" while on a fishing trip in June.
After the trip, another student asked him to hurry and take the students home because they were cold and wet. Mr Pakaru swore at the student.
He admitted he had told a student to "bugger off or I'll throw you overboard" but claimed he had not sworn and that the comment was not meant to be taken seriously. Mr Pakaru also admitted he swore at students after the fishing trip.
The authority ruled his behaviour was intimidating and his language exceeded acceptable boundaries and was not consistent with the model he was expected to exhibit for the students.
But it found another set of allegations - including that Mr Pakaru took a student's fishing rod for his own use, sent inappropriate text messages to female students, and inappropriately placed his hand on a student's thigh - could not be proven. The ERA said the dismissal was unjustified because the polytech had drawn on those unreasonable conclusions as part of its decision to dismiss Mr Pakaru.
The report also said the polytechnic should have advised Mr Pakaru about the kind of allegations he was facing at the time of his suspension.
"There were a number of flaws in the investigation, beginning with the unfair suspension. I also have a concern that the interview process did not concentrate on obtaining a full and accurate account of the incidents being pursued," the report says.
The authority ordered the polytechnic to pay Mr Pakaru for the remaining 11 weeks that his fixed-term contract was for, less almost $3000 he earned after he was fired.
The amount was reduced by 60 per cent to reflect the misconduct he admitted to and his failure to adhere to the standard expected of him.
Mr Pakaru was also awarded $5000, less 60 per cent, as compensation for injury to feelings.
A spokeswoman for the Bay of Plenty Polytechnic said she could not make any comment.
The Bay of Plenty Times was not able to reach Mr Pakaru for comment.