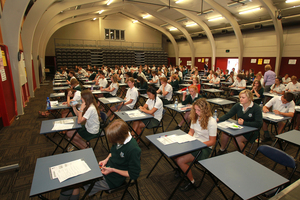 Tauranga students had mixed feelings yesterday morning as they lined up to sit the country's biggest NCEA exam.
The NCEA examinations kicked off on Friday with Scholarship drama, but the first major exam was held yesterday morning, Level 1 English, with more than 47,000 entries.
Tauranga's largest secondary school, Otumoetai College, had to dedicate 10 classrooms and the school hall to more than 500 students sitting exams yesterday morning - 420 students sitting Level 1 English exam and 98 students sitting Scholarship statistics.
Deputy principal Bruce Farthing was out in the school grounds with his megaphone organising the hundreds of students into their places and making sure everything ran smoothly.
Students were organised into lines according to where they were to sit in the hall and filed in row by row in silence.
The Bay of Plenty Times spoke to a number of students at the college before they made their way into their exams.
Josh Hislop, 15, was excited about sitting Level 1 English.
"I'm pretty stoked about it, I'm just keen to get it over and done with. I'm pretty excited, it's my first ever exam.
"Hopefully it will go well, I passed English in the mock exams so I'm hoping I'll get an Achieved or Merit."
Josh said he was not nervous at all.
"I've been doing lots of study all week, I just read over essays and keep writing them over again, and write key notes on cue cards.
"Apparently it gets really scary once you're in there when it's all quiet."
Unlike Josh, Nicola Tapper, 16, was trying to control her nerves before her English exam. "I'm kind of nervous. No, actually, I'm really nervous. It's pretty scary when you get here and everyone's waiting outside."
Nicola said she felt prepared as she had done a lot of study.
Siobhan Raisbeck, 16, was preparing for her Scholarship statistics exam.
She said she was calm before her exam as she knew the drill from last year.
"I'm prepared for most things, but there's a few things I'm not as confident about," she said.
"It's one of those exams where how well you do is dependent on how everyone else around the country does.
"I'm content, I did a lot of study, but if it all goes through the roof that's just what happens on the day."