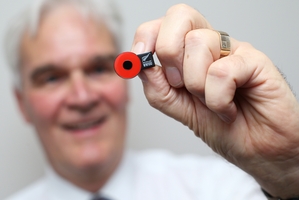 The Tauranga WW100 committee is planning a series of events to mark next year's centenary of each major event in World War I.
The committee was formed a year ago to begin planning ways to commemorate the war, in which one-tenth of the entire New Zealand population served from 1914-18.
Members include the local RSAs, cadet forces and Hauraki regimental forces.
Chairman Peter Moss, who is general manager of Mount Maunganui RSA, said a number of things were being planned to commemorate the centenary.
At this stage, Mr Moss said, it was likely the committee would centre events around the major campaigns New Zealand fought in during the war, such as Gallipoli, Passchendaele, the Middle East and the Western Front.
The committee has already obtained a shipping container, which it will take to different locations around the city with various displays throughout the four centenary years.
Mr Moss said another idea being talked about was creating a field of remembrance and erecting a wooden cross at the anniversary of the death of every Tauranga soldier during the war, but this was dependent on Tauranga City Council supplying land.
"Most of what we are doing is in the planning stage at the moment. One of the members had a good idea of hosting a regimental dinner for up to 1000 veterans and wives, but that is dependent on funding," Mr Moss said.
"That would hopefully be attended by the Governor General and the Prime Minister, and would be a formal occasion."
The first event would likely be held in August, around the anniversary of the British declaration of war and New Zealand's ratification of the declaration.
Mr Moss said the committee had also suggested adding a picture of a poppy to all road signage with links to World War I.
He said a lot of people were coming to him with information about ancestors who fought in the war, which would be collated and added to local archives.
Tauranga City Library was undertaking a project to digitalise all its World War I photographs, which Mr Moss said would hopefully be used in a display somewhere.
"The main thing is to try and get the interest going.
"Tauranga did not only supply men to the war, it was also a major fundraising point for the war effort.
"Many people also came here to recuperate after their return."
Members of the committee would be available for talks at local schools, and resources were being prepared for teachers with a local flavour.
The Tauranga Historical Society is also setting up a series of lectures. Mr Moss said there were about 400 World War II veterans in the area, many of whom had a father or other relative who fought in World War I, and the centenary was important to them.