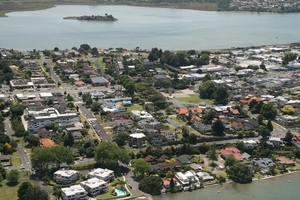 Tauranga property values have risen in the last year, but new figures reveal the Western Bay has lost ground.
Tauranga values picked up slightly with a 0.7 per cent increase in the year to October to an average value of $435,776, whereas Western Bay recorded a 0.2 per cent drop to $398,956, according to state valuer Quotable Value.
Across the region, values remain well down on the 2007 market peak, the figures show.
New Zealand property values rose at an 8.9 per cent annual pace to hit an average current value of $457,312, driven by a shortage of houses in Auckland and Christchurch.
QV research director Jonno Ingerson said new Reserve Bank caps on low-deposit loans were likely to affect property values and the volume of sales.
The effects would be most felt by first-home buyers and in provincial areas, but it would be some months before any evidence showed, he said.
Ross Stanway, chief executive of Realty Services, which operates Bayleys and Eves, said the QV figures made "an absolute mockery" of the measures to stem house price increases.
"It just shows that we have a good steady market here in Tauranga and we have had for the past two to three years."
He said the house price issue was specific to Auckland and Christchurch and was a frustration to first-home buyers.
"We do hope to see an increase in stock levels though, either through new developments or increased listings."
Tauranga Harcourts managing director Simon Martin agreed the Tauranga market had remained steady.
"There is no major growth or drop in prices, which is nothing to worry about," he said.
"It would be nice to see it more in line with the national figures but those are mainly driven by what is happening in Auckland and Christchurch."
He said the industry was starting to see the "very early stages" of the fallout from the increased lending restrictions.
Professional Advisers Association (PAA) chairman Bruce Cortesi said "without a doubt" mortgage advisers nationwide had been forced to turn away first-home buyers who did not meet the new lending criteria of a 20 per cent home deposit.
His own firm in Mt Maunganui, PlanWise Limited, had also been affected, turning away 10 prospective first-home buyers in October alone.
"We just cannot get them financed at this point in time, it's just not possible."
Bay buyers felt it was unfair they were being penalised for soaring house prices in Auckland and Christchurch, he said.
Mr Cortesi said some more "desirable regions", such as Bay of Plenty and Hawkes Bay, could see a spike in buyers coming in from Auckland and Christchurch. "You could see the prices in those [provincial] regions starting to increase."
A yet-to-be released national survey of New Zealand mortgage advisers revealed some advisers had experienced a 50 to 70 per cent drop in clientele, while those specialising in first-home buyers had experienced a drop of up to 80 per cent since the restrictions were enforced on October 1, Mr Cortesi said.
However, the ramifications stretched wider than mortgage advisers, with property valuers, conveyancers, real estate agents and builders reporting a decrease in business.
"You can actually see the snowball effect. It's not immediate but it is going to find its way into all those industries."