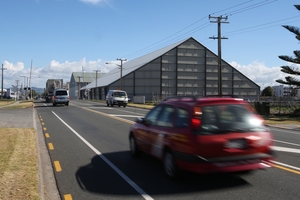 A woman more than twice the drink driving limit had her 8-year-old daughter in the back seat when she smashed into the back of another car at a railway crossing as a train went past.
The car she hit was shunted into the car in front of it in an accident a senior officer said was lucky not to end in tragedy.
The incident happened about 8.40pm on Thursday on Totara St.
Western Bay of Plenty road policing manager Senior Sergeant Ian Campion told the Bay of Plenty Times Weekend two cars had stopped at the railway crossing on Totara St when the drink driver failed to stop and ploughed into the one in front of her.
Mr Campion said two people suffered minor injuries in the crash and a male occupant from the drink driver's car left the scene before police arrived.
He said the woman driver was processed for drink driving and her breath alcohol limit exceeded 950 micrograms - more than double the adult legal limit of 400mcg.
Mr Campion said the woman's 8-year-old daughter was also in the car and suffered whiplash as a result of the crash.
He said she was treated for minor injuries and had been referred to Child Youth and Family.
"It is beyond belief that someone that intoxicated would drive, let alone with her daughter in the car," he said.
"She is putting everyone in danger including her own family as well as everyone else on the roads.
"It is just lucky that this event didn't end in tragedy. It is simply unacceptable."
The driver of the car the woman crashed into told the Bay of Plenty Times Weekend he was waiting for a train to pass when the crash happened.
"The train was going past then I heard some screeching for a couple of seconds then she crashed into my car," he said.
"It just sounded like crunching metal."
The man's car was shunted into the car in front of his.
"It all happened pretty quickly ... The people in the car in front got out because they thought it was me that crashed but then they saw the car behind me."
He said they then checked to see if everyone was all right.
"There was a young girl in the back of the car and I can just remember her crying," he said.
"If she wasn't wearing a seatbelt, she would have probably gone through the windscreen.
"It is never nice to hear a child screaming, it shakes you up a bit."
The man said he was shocked to learn the woman's breath-alcohol reading was so high.
"It's just irresponsible."
Mr Campion said he hoped this incident would serve as a reminder about the dangers of drink driving.
The woman is expected to appear in Tauranga District Court next week.