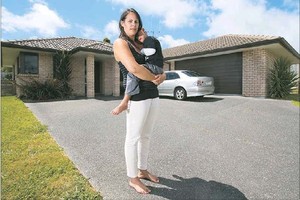 A rental shortage is forcing some Tauranga families to share overcrowded homes, with one describing it as like living in a "slum in Bangladesh".
Another family say they have no choice but to leave Tauranga because they cannot find a place to live.
Their stories come as real estate agencies say the number of rental properties in Tauranga is at its lowest level in two years - and they warn prices could rise in coming months.
The Government's lending restrictions, which came into force on October 1, are forcing many prospective first-home buyers to remain renting while they save the required 20 per cent deposit.
The low number of rentals being built, a spike in demand in the lead-up to summer and an increase in the number of expat Tauranga residents returning from Australia are also contributing to the shortage, rental experts say.
There are 320 properties available for rent in Tauranga - including holiday accommodation - on Trade Me compared with 595 properties over winter.
Tauranga Polytechnic student and young mother Kayla Gerbert, 25, and her 3-year-old son Jaedyn are leaving Tauranga because of the difficulty in finding a rental. Ms Gerbert said after months of searching with her sister she had decided to move to Palmerston North.
"I applied for hundreds of places but we just did not have any luck," she told the Bay of Plenty Times Weekend.
"I am just waiting until I finish my Social Services course and then I am leaving - it's just too hard here.
"You go to inspect house after house and the same desperate looking people are with you at each inspection, the competition is crazy."
Mother of five Marie Cross said her family was living with friends in a four-bedroom Avenues house after the lease on their Papamoa property ran out.
The family moved to the Bay from Hamilton two years ago for work but have been unable to find a new home after their previous lease expired.
Mrs Cross said the couple her family was living with had four children.
"My husband came here for work and we thought it would be easy but we have a couple of pets and a big family and people don't want to know because there are 10 other families wanting the same house as us but they have less kids," she said. "Right now the house is so cramped it feels like we are living in a slum in Bangladesh."
Nicki Broughton, her husband and three children will move in with a friend and her two children today after searching for a home for four months around Arataki. "It's tough out there, people have even started to offer more rent than is being asked to make sure they get the place they want."
Dan Lusby, owner of Tauranga Rentals, said the average number of rentals available was close to 400.
"So we have seen a sharp drop-off and it has happened suddenly," he said. "However, demand has not dropped off.
"In the past a property would be up for rent for three to four weeks to allow us to find the perfect tenant, now properties are being let within the first week."
LJ Hooker Tauranga franchise owner Neville Falconer said prices had not risen but investors were already circling with the expectation they would increase.
"The current rental market can best be described as a boiling pot," he said.
"We will not be able to keep the lid on it forever and rents will go up."
Harcourts Tauranga property manager Margi Hampshire said some properties were not even being advertised online because there was a steady stream of "good tenants" seeking homes.
Ross Stanway, of Realty Services, which operates Eves and Bayleys, agreed there was a shortage but he believed prices would not rise dramatically like they had in Auckland. Most Tauranga landlords preferred a reliable, long-term tenant over "a few extra dollars", he said.