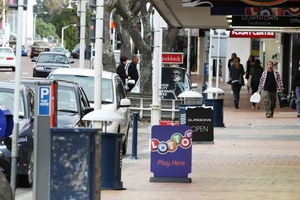 Bricks and mortar book retailing has its own unique business problems in the internet age.
But the recent closing of Devonport Rd's Chapter 2 bookshop also highlights the fact that downtown Tauranga retailers continue to face a challenging environment.
"I think it's still tough for retail unquestionably, especially small retailers," said Max Mason, chief executive of the Tauranga Chamber of Commerce.
"And it's not just Tauranga, but all the regions outside the big centres. Anecdotally, I would also say that the bigger retailers are getting stronger and better at what they do, which is putting more pressure on the smaller shops."
Chapter 2 was set up six years ago as a Dymocks franchise, but was forced to go independent about 18 months ago when Dymocks collapsed in New Zealand.
Former co-owner Phil Jones said a combination of factors had affected Chapter 2. The collapse of a number of local financial institutions, the Psa crisis, as well as the dropping of interest rates had impacted many customers' discretionary spending.
"You can buy books online cheaper than you can buy books in a shop," he said. "And the general retail environment downtown has been pretty slow over the past couple of years."
Warren Baskett, who has run Books A Plenty in Grey St with his wife Chris for 13 years, agreed there had been pressure on the book trade from internet suppliers.
In particular, the fact that the United Kingdom treated books as a cultural category and did not levy value added tax on book prices, meant that UK-based internet retailer The Book Depository could offer very cheap prices, he said.
But Mr Baskett said the recent changes in Mainstreet Tauranga, which represents the downtown businesses, had been good.
"They are trying to do to make downtown a more competitive and exciting place to shop. We just need to get more people coming downtown."
Sally Cook, brand strategist for Tuskany Agency, which recently took over responsibility for Mainstreet's marketing and management, said they heard positive news stories every day.
"But of course it is balanced out by some not so positive stories," she said. "Our focus is to try and generate more activities and events."
Mainstreet announced the launch this week of a new dedicated Downtown Tauranga cruise ship shuttle bus that will operate from the iPort to Downtown Tauranga for the 2013-14 season.
"We're excited to be launching this new initiative, said Mainstreet chairperson Glenn Tuck.
"This new shuttle service gives us an opportunity to access the lucrative cruise ship market and it's what our members have been asking for.
"It's about making sure we maximise our potential numbers of tourists that might like to come into the city centre for the day while their ship is in port."