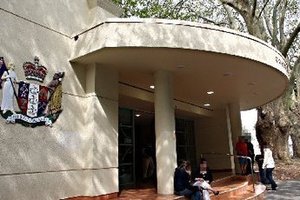 Two Tauranga cases have been highlighted on this year's SPCA List of Shame.
The annual list highlights the worst cases of animal abuse and neglect between July and September.
Out of the 23 incidents featured on the list, two are from Tauranga.
One was a high-profile incident where a swan in Tauranga Harbour were mowed down by a jet boat. In October Katikati man, Carl Ian Williams, 36 was sentenced to 22 weeks' community detention and ordered to pay a fine of $3500 after admitting running down and chasing a black swan in his jet boat.
Prior to sentencing, he had paid $6596 in reparations to the SPCA and donated $500 to a local wildlife sanctuary.
The other Tauranga case featured on the list was a puppy which was found with broken bones and a damaged spinal cord.
A Tauranga man was sentenced to 100 hours' community work, ordered to pay $657.97 in reparations and disqualified from owning a companion animal for five years after admitting to two charges under the Animal Welfare Act 1999.
The SPCA said a puppy found in his care was unable to stand and could barely move.
A veterinary examination revealed the puppy had fractured the radius and ulna bones in one leg, had a damaged spinal cord and had developed a bone condition causing acute pain.
The man admitted the puppy had been in this condition for four days prior to the animal being seized and no treatment had been provided in that time.
Other cases included a pet sheep taken from its tether, bashed and set alight, an 8-week-old puppy which had its tail cut off with a pair of scissors and pigeons and a chicken found bound and stuffed in a chest of drawers in a disused shed.
RNZSPCA chief executive Ric Odom said the cases outlined in the list were all too familiar to SPCA inspectors around New Zealand.
"Our inspectors are then tasked with the heart-breaking job of determining whether the animals in question are able to be rehabilitated, released or re-homed or, as a last resort, have to be euthanased as a result of this abuse or neglect," he said.
Mr Odom said the cost of investigating and prosecuting the cases was met by the SPCA and urged the community to donate to the SPCA Annual Appeal week (November 4-10).
"The SPCA's work is almost entirely funded by donations, sponsorships and legacies of generous New Zealanders and the SPCA is enormously grateful to those individuals, groups and organisations.
"Without their support, we simply could not do the work we do."