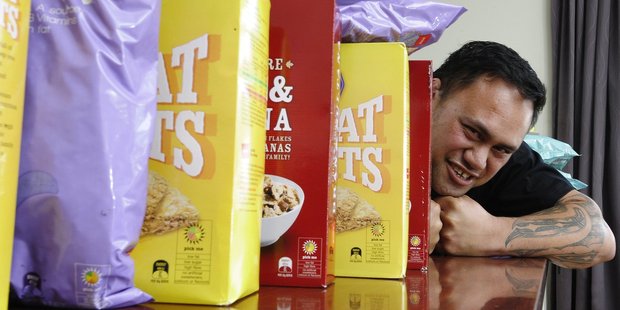 A Tauranga man who has taken it upon himself to ensure children don't go hungry at school is being described as an "angel" by educators.
Gate Pa man Stephen Pearson noticed some pupils were going to school with an empty stomach after his oldest child started school and decided to do something to help.
"It's a bit of an eye opener," he said. "I'd been into one of the schools in the area and I noticed that some of the kids were really, really, really hungry and you get a bit upset because they are always hungry.
"I really wanted to see our kids having a variety of cereal instead of just Weetbix."
The father of two set up the Kids Love Kai Facebook page and started collecting cereal and fruit last month and has already dropped off donations at five schools and a daycare.
"It just puts a smile on my face to see the kids are happy. It's quite disheartening to see the kids having breakfast in school and they want more.
It sort of hit me two weeks ago. It just knocked me for a sixer seeing the kids absolutely starving. I understand that for some parents and some families they just find it really hard," Mr Pearson said.
People from all over the country have been joining the cause and he already has about four boxes of fresh fruit, 200 boxes of Weetbix, 20 packets of rice bubbles, 20 packets of cornflakes, muesli bars, vegetables and gift cards.
He is also working on a plan to get other cereal such as All Bran and Nutri-Grain for the schools.
Mr Pearson, who works at the Port of Tauranga and runs Kids Love Kai in his spare time, said his aim was to help out lower decile schools which already ran breakfast programmes.
"I went into one school and they were absolutely over the moon about it. One of the office ladies almost started crying," he said.
Merivale School principal Jan Tinetti said the extra food Mr Pearson was supplying was a "huge help".
"It's been a bit of a godsend really. He's a bit of an angel."
His donations supported the daily Fonterra Kickstart programme the school ran, she said.
"At the moment we're getting Weetbix but he's supplying us with cornflakes and rice bubbles. There are some kids that require other meals throughout the day so we'll be using it to help with that," Mrs Tinetti said.
Gate Pa School health co-ordinator Janette Blake said his contribution was invaluable.
"It's nice for the kids who have had Weetbix and milk every day for the last five years.
Mr Pearson is hopeful the donations will continue.