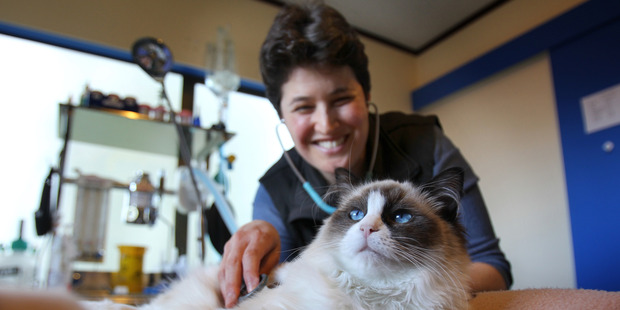 A Tauranga veterinary centre will be the setting for a new television show about animal welfare.
Staff of Holistic Vets, clients, their pets, and injured wildlife will be the stars of the show, likely to be named MAD Vets 24/7... Making a Difference.
Camera crews from Stonewall Productions will be at the centre on Wednesday and Fridays for a number of weeks to get footage for the shows.
Centre director and Bay of Plenty Times columnist Liza Schneider said the television series would be a vehicle to help educate and inspire people about animal welfare, responsible pet ownership and animal sustainability.
Dr Schneider said the idea for the show was formed when she met up with a Stonewall crew a few months ago. "They were in town filming a series and they talked to us about what we were doing. From there, it was a match made in heaven."
Dr Schneider said most of her clients were happy to be filmed, although some had asked for their faces to be hidden. "Most are really excited and some have been calling up and offering opportunities with their pets."
One pet the series will follow is Pisa the rag doll cat from Whitianga who was hit by a car and lost the use of her back legs.
"We've been treating her and she's doing very well. She hasn't regained the use of her back legs but she has enough quality of life and can scoot around. She's got real personality. It was a huge commitment from her owners to look after her, but they're more than happy to do it."
As well as filming at the clinic, the crew will follow Dr Schneider on house calls and will also get footage of ARRC Wildlife Trust, established in 2003 by Dr Schneider after discussions with the Department of Conservation to identify areas where voluntary veterinary expertise could be of assistance in treating and rehabilitating native wildlife.
The show will be aired in March on TV Central, TV Rotorua and SKY Cue 110.