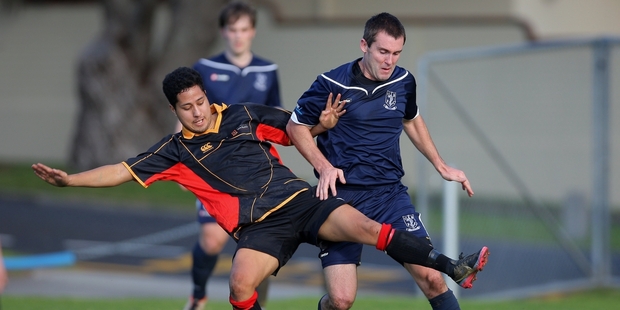 Shifting their home base back to the beautiful Wharepai Domain was one of several positive factors in the season just completed for the Old Blues Football Club.
The close synergy between the Federation 1 and 2 coaches and players has made for a tight knit club that has none of the first and second team rivalries that many clubs across all codes suffer from.
The Federation 1 team is coached by former All Whites Grant Turner and John Whitley, while the Federation 2 side is mentored by Peter Saunders and Anthony Delo.
Saunders says the close bonds at the club are part of what makes it so appealing for young players to join.
"The four of us work very, very closely together," Saunders said.
"We are tighter than ticks and players go up and down from team to team as their form improves or wanes.
We are very big on youth and that is the nub of our club in many ways. It is about getting them up into that first team and having a young team is the most important thing.
"We have also broken down the 'us and them' attitude. There is none of that in our club. It is just a Federation squad and two teams are in there."
Turner added that the coaches' history goes back 20 years when they played together, which is a key factor.
"It is a bit unique that we have that history," Turner said.
"We know what we have done and how to talk to each other. We all know exactly what we are trying to do and what players we are looking for."
Old Blues obviously would like to move forward to play at the next level in the Northern League to take on the likes of Tauranga City and AFC Fury.
But Turner says there are some important criteria that the club has to meet before that can happen.
"We need to gain sponsorship so that we can actually afford to go into that arena and have the players comfortable enough to be playing in that league. There is a lot of travel but it can be fun if it is done in the right way.
"They also need to be good enough and we are not prepared to go into that league until they are good enough."
The break for Old Blues players will be shortlived as pre-season training will commence on January 26 at Waipuna Park.
Details: www.obfc.co.nz