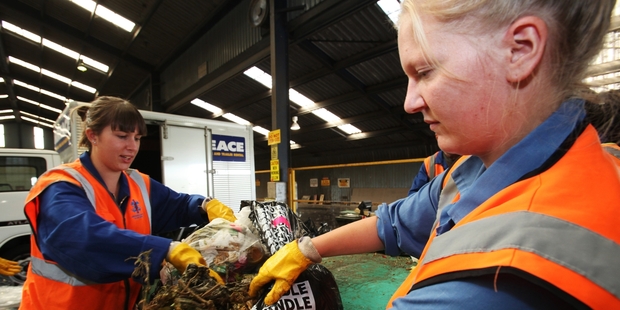 More than half of what goes into a Tauranga City Council rubbish bag could be recycled.
To find what was being taken to the city landfill, the council undertook an audit of what was being put into kerbside rubbish bags.
City council waste minimisation programme leader Kimberley Cleland said for a week rubbish bags at the city landfill were emptied and sorted through to find what percentage of its contents was recyclable.
Ms Cleland said bags from various suburbs were searched to get a good cross-section of the city.
The results showed 65 per cent of what went into a rubbish bag could be recycled.
"It is something we have known for a while," she said.
"We just needed to do the audit to get a clear picture of what was happening.
We wanted to ascertain what was happening domestically."
She said the results would be used to promote programmes designed to make more people recycle.
"We are making progress in Tauranga," she said.
"The population is growing but the amount which is being taken to the landfill is quite static."
Last year residents in the Western Bay sent 70,000 tonnes of waste to landfill. This equates to about 430kg of waste per person. The national average is 585kg per person.
Ms Cleland said recycling was becoming second nature to a lot of people, but there was still work to be done.
"We currently run several programmes to educate people about the different things they can do to reduce the waste being taken to the landfill," she said.
The council was trying to instil a sense of individual responsibility.
"There are a number of 'change of behaviour' programmes, including education in schools, advocating the use of re-usable nappies, getting people to use sustainable products at events, encouraging them to shop more sustainably and not to use disposable items.
"We have an adviser who goes into businesses and assesses what they're doing with their waste and resources.
"We also teach people how to worm compost. Households can come along to a workshop and receive worm bins, worms and compost at a subsidised rate so they can work on reducing their organic waste at home rather than it going to landfill.
"We've been running two events a year over eight years and they've been very successful.
"More than 550 households in Tauranga have taken part and 3.5kg a week of kitchen waste can go through those."
Ms Cleland said she hoped the figures from the audit would help people think about what they were putting in the rubbish.